Credit Secrets: The Ultimate Guide to Fix Your Credit Score and Start Enjoying Life You Really Deserve. Including Directions for Dispu (Paperback)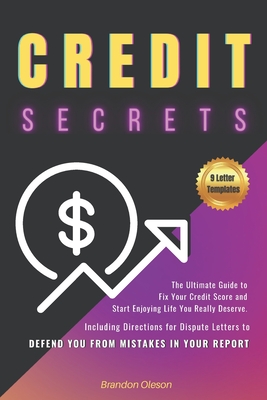 $14.99

May be on Backorder or may be Out of Print. May take a number of weeks to arrive if it arrives at all. We will confirm.
Description
---
Most of us well know the feeling of having the world on our shoulders.
We get stuck on the bill-paying treadmill, and our money is accounted for before we even get it in our possession. Having a dead-end job, no job or just being broke can discourage anyone and force them to become content with the options they are given.
I know this is the reality of a lot of people reading this, but it does not have to stay this way
Whatever your dream is, to realize it, you need a high FICO score to qualify for the best financing. This goal could look hard to achieve and far in time, but this book will show you the most effective strategies step by step, with simple language, to help you legally fix your credit score in a matter of months.
With this book you will get:
- 6 easy strategies to increase your credit score
- 3 advanced strategies to further boost your credit score
- 9 easy-to-use letter templates to dispute negative items on your credit reports
- Protection against fraud and cyber threats
- How to smartly manage your credit cards
- Removing late payments reports
- How to pay down debts
- How to manage student loans
- When Bankruptcy can be an opportunity to start over and how to file for it.
- And much more...
The worst feeling in the world is to feel helpless, or unaware of a system that others are benefiting from while you are just forced through the motions. That's why I define credit as being a chess game.
But if you learn how to play it, from now on, every day you will have more money to spend on the things that make you happy, thanks to good credit.
Are you ready for a better life?If yes, do not hesitate. Scroll up, click on the "Buy Now" button, and start today.