Credit Secrets: 2 IN 1: The Only Guide You Need to Boost Your Credit Score and Use Section 609 Credit Repair to Your Best Advantage! L (Paperback)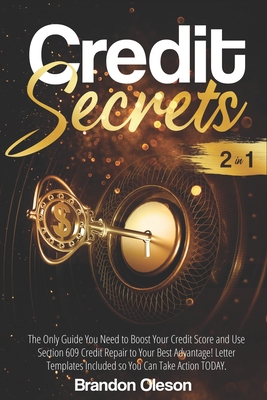 $16.20

Backordered. Not in stock at store and may take a number of weeks to arrive.
Description
---
You are ready to start the next chapter of your life.

Whether it is to apply for a job at that prestigious firm, buy your dream car or your first house, or start a family.

If the reality of a bad credit score is preventing you from achieving any of the above, now you can change that reality
Boost your credit score using proven-to-work, easy-to-use, 100% legal methods in just a few months

Be an expert in FICO Score, credit card system, and other financial tools and use them to increase your credit score

Gain useful habits that substantially elevate your credit score

Understand your rights, especially those guaranteed under Section 609

Dispute letter templates that are simple to customize and implement with clear, step-by-step instructions

The reality of bankruptcy

Fully DIY. Save yourself thousands of dollars charged by attorneys and agencies using the methods they use

And more

Everything you need to know about fixing your credit score and credit repair is comprehensively and clearly contained in this ultimate guide.
No more spending time researching multitude of websites for information or application.

No more confusion over financial jargon and terminology.

✓ Volume 1 covers:
Everything you need to know about credit score
How credit repair works
How to boost your credit score
All you need to know about the FICO score
How to pay down debts
6 easy strategies to increase your credit score
3 advanced strategies to further boost your credit score
9 easy-to-use disputing letter templates to dispute negative items on your credit reports
How to maintain a good score
Protection against fraud and cyber threats
How to deal with bankruptcy
Everything about credit cards
Removing late payments reports
How to manage student loans
✓ Volume 2 covers:
Good habits to gain a high credit score, and those you should avoid
How to accomplish a superior credit score by removing negative credit report data from your credit report.
What Section 609 is and the loophole that you can use to fix your credit score in a matter of months
Your rights under Section 609, and how to work with credit reporting agencies to your advantage
7 dispute letter templates (goodwill letter included) with clear instructions of required documents
Proven-to-work tips that will accelerate your dispute process
Avoid common disputing mistakes that may delay your process
And much more...
The power to start the life you deserve is in your hands.

Click on "Buy Now", and get your copy today