La Recherche-Création Littéraire (Paperback)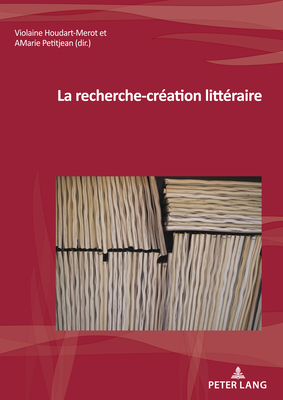 $55.14

May be on Backorder or may be Out of Print. May take a number of weeks to arrive if it arrives at all. We will confirm.
Description
---
La recherche-cr ation en litt rature est un domaine particuli rement innovant, amen renouveler les tudes litt raires. Il s'agit non seulement d'aborder la recherche en litt rature par la pratique et l'exp rimentation, mais de consid rer que la litt rature est en elle-m me recherche.
Cette approche est r cente dans le domaine de la litt rature en France, avec la cr ation de masters et de doctorats, contrairement d'autres pays, en particulier aux tats-Unis et au Canada qui a initi l'expression  recherche-cr ation  pour les diff rents arts. La comparaison internationale invite ainsi identifier un champ de recherche sp cifique, et passer d' tudes sur la litt rature des recherches par la litt rature.
Comment se caract rise la  recherche-cr ation  dans le domaine de la litt rature ? Quels en sont les enjeux et les fondements th oriques ? quels d bats donnent lieu ces nouvelles pratiques de la recherche ? R pondent-elles aux m mes finalit's dans tous les pays ?
Dans une perspective internationale et comparatiste, cet ouvrage rassemble des contributeurs-rices des tats-Unis, du Canada, du Br sil, de Gr ce, de Suisse et de France. Il permet de confronter points de vue, r flexions et t moignages d'universitaires, d' crivain-e-s, de docteur-e-s et de doctorant-e-s.