Hamnet (Paperback)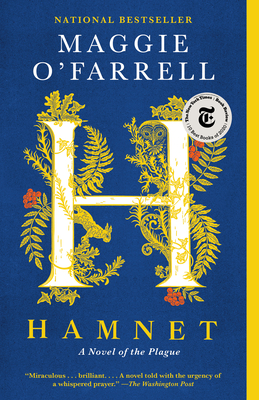 $16.95
Coming Soon - Available for Pre-Order Now
August 2020 Indie Next List
---
"I loved Hamnet in very much the same way I loved Lincoln in the Bardo. This novel explores the way the dead haunt the living—especially how the death of a child haunts their parents—and does it in the context of a fascinating historical figure and time. But we know so much about the Lincolns, and so little about the Shakespeares. Maggie O'Farrell's ability to construct a palpably real emotional life for all the members of the Shakespeare family—but especially for Shakespeare's wife—is just magical. This is a powerful and haunting novel."
— Nina Barrett, Bookends & Beginnings, Evanston, IL
Description
---
WINNER OF THE NATIONAL BOOK CRITICS CIRCLE AWARD 
*A New York Times Best Seller*

"Of all the stories that argue and speculate about Shakespeare's life . . . here is a novel . . . so gorgeously written that it transports you." —The Boston Globe

England, 1580: The Black Death creeps across the land, an ever-present threat, infecting the healthy, the sick, the old and the young alike. The end of days is near, but life always goes on. A young Latin tutor—penniless and bullied by a violent father—falls in love with an extraordinary, eccentric young woman. Agnes is a wild creature who walks her family's land with a falcon on her glove and is known throughout the countryside for her unusual gifts as a healer, understanding plants and potions better than she does people. Once she settles with her husband on Henley Street in Stratford-upon-Avon, she becomes a fiercely protective mother and a steadfast, centrifugal force in the life of her young husband, whose career on the London stage is just taking off when his beloved young son succumbs to sudden fever.
About the Author
---
Born in Northern Ireland in 1972,Maggie O'Farrell grew up in Wales and Scotland and now lives in London. She has worked as a waitress, chambermaid, bike messenger, teacher, arts administrator, journalist (in Hong Kong and London), and as the deputy literary editor of The Independent on Sunday. She is the author of After You'd Gone (winner of the Betty Trask Award); My Lover's Lover; The Distance Between Us (recipient of a Somerset Maugham Award); The Vanishing Act of Esme Lennox; The Hand That First Held Mine; Instructions for a Heatwave (winner of a Costa Book Award); This Must Be the Place; I Am, I Am, I Am; and most recently, Hament (winner of the National Book Critics Circle Award).
Praise For…
---
"O'Farrell has a melodic relationship to language. There is a poetic cadence to her writing and a lushness in her descriptions of the natural world. . . . We can smell the tang of the various new leathers in the glover's workshop, the fragrance of the apples racked a finger-width apart in the winter storage shed. . . . As the book unfolds, it brings its story to a tender and ultimately hopeful conclusion: that even the greatest grief, the most damaged marriage, and most shattered heart might find some solace, some healing."
—Geraldine Brooks, the New York Times Book Review 

"All too timely . . . inspired. . . . [An] exceptional historical novel "
—The New Yorker

"Magnificent and searing. . . . A family saga so bursting with life, touched by magic, and anchored in affection. . . . Of all the stories that argue and speculate about Shakespeare's life, about whether he even wrote his own plays, here is a novel that matches him with a woman overwhelmingly more than worthy."
—The Boston Globe

"A tour de force. . . . Hamnet vividly captures the life-changing intensity of maternity in its myriad stages—from the pain of childbirth to the unassuagable grief of loss. Fierce emotions and lyrical prose are what we've come to expect of O'Farrell."
—NPR

"O'Farrell moves through the family's pain like a master of signs and signals. . . . In Hamnet, art imitates life not to co-opt reality, but to help us bear it."
—Los Angeles Times

"Wholly original, fully engrossing. . . . Agnes is a character for the ages—engimatic, fully formed and nearly literally bewitching to behold in every scene she's in."
—San Francisco Chronicle

"A moving portrait of a mother's grief. . . . O'Farrell's prose is characteristically beautiful."
—The Wall Street Journal

"Evocative. . . . [Hamnet] is also life-affirming as it suggests ways art can transcend misfortune." 
—National Review

"Superb. . . . O'Farrell's exquisitely wrought eighth novel proves once again what a very fine writer she is."
—Financial Times
 
"Elliptical, dreamlike. . . . [Hamnet] confirms O'Farrell as an extraordinarily versatile writer, with a profound understanding of the most elemental human bonds—qualities also possessed by a certain former Latin tutor from Stratford." 
—The Observer (UK)
 
"A remarkable piece of work. . . . O'Farrell is one of the most surprisingly quiet radicals in fiction." 
—The Scotsman (UK)
 
"[A] portrayal of grief and pain. . . . O'Farrell describes these agonies with such power that Hamnet would resonate at any time." 
—The Guardian
 
"[O'Farrell is] a writer of rare emotional intelligence whose personal intimations of mortality bear rich fruit in this, her eighth novel." 
—Evening Standard

"This artfully paced novel is an anatomy of grief. . . . Just when the novel's second part seems to be moving to a tragic conclusion, it mounts a stunning redemptive volte-face." 
—The Times Literary Supplement