Ralph Compton The Kelly Trail (The Trail Drive Series) (Mass Market)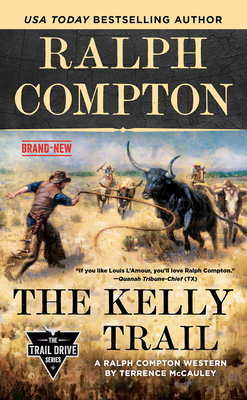 $7.99

Not in stock at store. Will, in most instances, ship from our warehouse in 7-10 days
Description
---
In this new Ralph Compton Western, William "Bull" Kelly brings his five sons onto the cattle drive, but when rustlers stampede the herd and injure them, he'll do anything to protect his own.

Over the past twenty years, William "Bull" Kelly acquired a reputation as one of the best ramrods in Texas. He has led legendary cattle drives to almost every railhead in the middle of the country. Most impressive of all, he once drove his herd all the way up to Montana. But after years of working for other people, he decided to run cattle on his own, with his five sons.

Everything starts off fine, but when a group of cattle thieves try to stampede the herd, some of Kelly's sons are hurt in the melee. The rustlers quickly find out that Kelly isn't called "Bull" because he insists on riding at the head of the herd. He's called "Bull" because of his skill with the harsh whip coiled on his belt.
About the Author
---
Ralph Compton stood six foot eight without his boots. He worked as a musician, a radio announcer, a songwriter, and a newspaper columnist. His first novel, The Goodnight Trail, was a finalist for the Western Writers of America Medicine Pipe Bearer Award for best debut novel. He was the USA Today bestselling author of the Trail of the Gunfighter series, the Border Empire series, the Sundown Riders series, and the Trail Drive series, among others.

Terrence P. McCauley is an award-winning writer of westerns, crime fiction, and thrillers. His western Where the Bullets Fly won the True West Magazine Award for Best Mass-Market Novel for 2019. He is the author of the acclaimed University Series, which includes The Fairfax Incident. He has also written two award-winning novels set in 1930s New York City: Prohibition and Slow Burn.