Abusing Religion: Literary Persecution, Sex Scandals, and American Minority Religions (Paperback)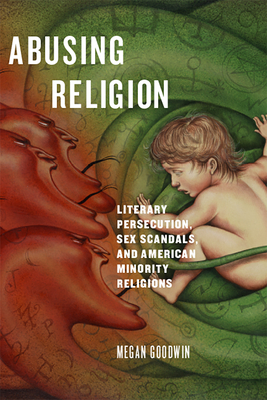 $34.44

May be on Backorder or may be Out of Print. May take a number of weeks to arrive if it arrives at all. We will confirm.
Description
---
Sex abuse happens in all communities, but American minority religions often face disproportionate allegations of sexual abuse. Why, in a country that consistently fails to acknowledge—much less address—the sexual abuse of women and children, do American religious outsiders so often face allegations of sexual misconduct?  Why does the American public presume to know "what's really going on" in minority religious communities?  Why are sex abuse allegations such an effective way to discredit people on America's religious margins? What makes Americans so willing, so eager to identify religion as the cause of sex abuse? Abusing Religion argues that sex abuse in minority religious communities is an American problem, not (merely) a religious one.
 
About the Author
---
MEGAN GOODWIN is the program director for Sacred Writes: Public Scholarship on Religion, a Henry R. Luce-funded project hosted by Northeastern University, and a visiting lecturer with Northeastern University's Philosophy and Religion Department.
Praise For…
---
"Significant and eminently timely."
— Melissa M. Wilcox

"A major and multidisciplinary contribution."
— Sean McCloud

"Evocative, theoretically compelling, and not mincing words, Abusing Religion offers profound new insights into pulp fiction on sexual abuse in/by minority religious communities. Goodwin's 'reproductive nationalism,' bringing together race, religion, sexuality, and gender, will surely change conversations in more than one field."
— Juliane Hammer

"Abuse Happens Because We Let It," by Megan Goodwin
https://sojo.net/articles/abuse-happens-because-let-it-Menlo-Park-John-Ortberg-Lavery
— Sojo

Sacred Tension: QAnon, Satanic Panic, and New Religious Movements with Prof. Megan Goodwin
https://stephenbradfordlong.com/2020/07/14/sacred-tension-qanon-satanic-panic-and-new-religious-movements-with-prof-megan-goodwin/
— Secret Tension podcast

"QAnon Didn't Just Spring Forth from the Void—It's the Latest from a Familiar Movement" by Adam Willems - interview with Megan Goodwin
https://religiondispatches.org/qanon-didnt-just-spring-forth-from-the-void-its-the-latest-from-a-familiar-movement/
 
— Religion Dispatches

"The University of Vermont might be done with Religion, but Religion isn't done with us," by Megan Goodwin
 
— Religion Dispatched

"Are you one of the many Revealer readers who appreciated Megan Goodwin's 'Abusing Religion' series that explored mainstream media portrayals of Mormons, Muslims, and Satanists and their alleged greater prevalence of sexual abuse? If so, you'll want a copy of her book, Abusing Religion: Literary Persecution, Sex Scandals, and American Minority Religions."
— The Revealer

"Abusing Religion should, and must, initiate long overdue discussion within communities where abuse occurs, but continues outside the spotlight."
— Nova Religio

"In addressing such a fraught, painful, and controversial topic, scholars and students alike would be well served by heeding Goodwin's persuasive warning."
 
— American Religion