Driven by Nature: A Personal Journey from Shanghai to Botany and Global Sustainability (Hardcover)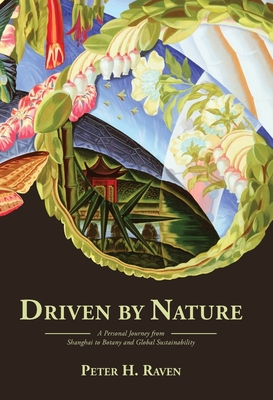 $35.00

May be on Backorder or may be Out of Print. May take a number of weeks to arrive if it arrives at all. We will confirm.
Description
---
It's safe to say that few people have lived lives as thoroughly devoted to plants as Peter H. Raven has. The longtime director—now president emeritus—of the Missouri Botanical Garden, author of numerous leading textbooks and several hundred scholarly articles, Raven has been a tireless champion of sustainability and biodiversity, earning him the plaudit of "Hero for the Planet" from Time.

Driven by Nature is the first chronicle of this prominent scientist and conservationist's life. Moving from his idyllic childhood in the San Francisco of the 1940s to his four decades leading the Missouri Botanical Garden, Raven's autobiography takes readers across multiple continents and decades. Driven by Nature follows the globetrotting botanist from China to the American Midwest as he works to foster concern for a changing planet, further the cause of biological education, and build the Missouri Botanical Garden into the world-renowned haven for plant life it is today. Raven brings his story into the twenty-first century with a timely epilogue that reinforces the crucial importance of scientific learning, active conservation, and committed activism in the face of a rapidly changing natural world.

Featuring an introduction by the Pulitzer Prize-winning naturalist E. O. Wilson, this beautifully illustrated book should thrill nature lovers, plant enthusiasts, and environmentally-conscious readers looking to take action to preserve our planet's biodiversity.
About the Author
---
Peter H. Raven is president emeritus of the Missouri Botanical Garden. An internationally renowned botanist and conservation advocate, he is the author of numerous books and has received a number of honors and awards, including the National Medal of Science and a MacArthur Fellowship.
Praise For…
---
"From his green awakening as a young boy, collecting butterflies and beetles, to his leadership of the famed Missouri Botanical Garden, Peter Raven tells the extraordinary story of his encounter with plants and other organisms. An incredible life journey takes him from Madagascar to China and countless places in between as he searches to understand the diverse species that form our web of life. In clear and understandable prose, Raven shows the beauty and complexity of nature and the tragedy of its mass extinctions. It is a human story that also carries a timely warning."
— Jerry Brown, former governor of California

"Pull up a chair for a front row seat to the birth of humanity's realization that our future is dependent on a fragile and finite biosphere and to the story of the farsighted science leader who turned a Midwestern U.S. botanical garden into a global institution for environmental sustainability."
— Marcia McNutt, president of the National Academy of Sciences

"This book recounts in fascinating detail the ways in which his long, varied life and deeply inquisitive mind have allowed Peter Raven to contribute so  much, both to his colleagues and to science generally."
— Paul R. Ehrlich and Anne H. Ehrlich, authors of The Population Bomb

"The book's range is wide for a text that is only about 350 pages. . .  Throughout the autobiography, Raven recounts in straightforward prose a history of developments, donors and doers. . . . For a St. Louis reader, the book is a reminder of how the botanical garden evolved over the decades."
— St. Louis Post-Dispatch

"To read Driven by Nature is to be inspired by the intimate journey of a passionate man who has left an indelible mark on the fields of botany and conservation biology. . . Driven by Nature is a testament to how an ambitious and wonderful person has positively affected the people around and the world at large."
— Artemisia

"Here we have a major success story based on a love of natural history from the age of seven and a career that never lost that devotion, but which produced one of the most influential botanists of the past century."
— Botanical Society of Britain and Ireland News

"Vivid."
— St. Louis Magazine

"Aptly titled, beautifully written, and inspirational. . . Raven's autobiography delivers both historical perspective and thought-provoking reading."
 
— Madroño

"The book is written in an engaging style, and Raven's plainspoken warmth and humor comes through clearly. It is suffused with anecdotes that give color and texture to the formative events in his life. I highly recommend it to all those who wish to know more about the person behind so many profound contributions to our field. To paraphrase his point about philanthropists, it can be inspiring to learn how botanical legends are, after all, just people."
— Systematic Botany