Dark Psychology Secrets: How to improve Emotional Intelligence Discover the Secrets and Techniques of Mind Control and Understand How Not to Be (Paperback)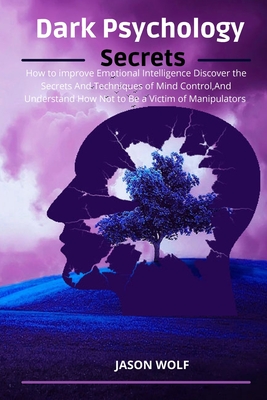 $27.95

May be on Backorder or may be Out of Print. May take a number of weeks to arrive if it arrives at all. We will confirm.
Description
---
Do you want to know the secrets of dark psychology?
Your clients in this book will find an important answer to the secrets of dark psychology
What if there were individuals who could understand what people want and use your desires against you?
Would you like to learn how to use the dark psychology to know what people want and how to protect yourself from them?
If the answer is yes, keep reading until the end: you will not be the only one.
Today we live in a society where telling lies is the order of the day, because of different factors. Most individuals have difficulty accepting false claims and separating inaccurate claims from true feelings, often with citizens around them.
Numerous perspectives will be described and you will see how you can manipulate or not to be manipulated, and the immense number of researches that have been carried out worldwide on this topic, ideal for comprehending the usefulness of dark psychology, starting from the source of the issue.
Great social psychology research shows an incredible density and diversity of life experiences on the street, in shops and in normal organizational settings, showing why our behaviors are not always under our control, explaining what factors manipulate us every day, resulting us to do something we would never have done spontaneously.
These techniques of manipulation often seem harmless, but is this really the case?
You will learn:
- The psychological principles applied to persuasion
- The great secrets of winning the trust of others and making them feel comforted by this.
- How to identify a manipulator through signs which were previously unnoticeable to you and how to safeguard against it
- How to use psychic powers to get anybody to do anything you want
- The biggest hypnosis myths, and how to hypnotize a person
- How to accomplish a real brainwash and why this should not be overlooked
- And more.
This book aims to take stock of those psychological techniques that influence our behavior, making it easier to manage the individuals around you, your co-workers, friends, or even relatives.
Using practical examples and simple strategies to actually use and learn Dark Psychology.
If you've always been a survivor in your relationships, you'll be able to use things to your benefit in a short time.
If you are often not taken into account, you will soon discover the most efficient tricks to display a strong character that fascinates everybody before you.
You don't have to be a psychologist, but you have to acquire and apply the techniques explained in this book. This is all you need.
Would you like to know more?
Buy it NOW and let your customers get addicted to this amazing book