Southern California in the '50s: Sun, Fun and Fantasy (Paperback)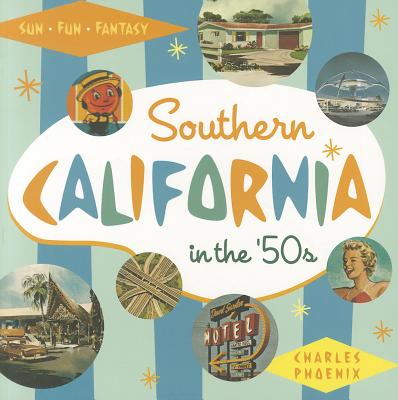 $29.95
Email or call for price.
Description
---
In the 1950s, Southern California was the place to be. The mood was up, prosperity ruled and the standard of living was flying high. It was the land of plenty for a new generation who reinvented the way we lived. With colorful memorabilia and vintage photos, Southern California in the '50s: Sun, Fun and Fantasy showcases this space-age promised land and the society that jump-started a cultural explosion. Charles Phoenix leads a nostalgic tour of his homeland, providing an up-close view of the way Southern Californians lived, where they worked and how they played. Readers will cruise in hot rods to Bob's Big Boy, go to the drive-in for Cokes and a movie, enjoy pools, patios and barbecues, and pull into that first McDonald's. Southern California in the '50s covers the suburban spread of stylish tract homes, coffee shops, supermarkets, shopping centers and bowling alleys, the modern conveniences that replaced rural valley farms, dairy pastures and fragrant orange groves. Readers rub elbows with the elite in Hollywood, and enjoy novelty of themed restaurants, motels and roadside attractions, attend fairs, festivals and parades and tour Knott's Berry Farm, Santa's Village, Marineland, Pacific Ocean Park and Disneyland when all were brand new. Anyone who loves or lives the Southern California lifestyle must have Southern California in the '50s.