The Machinery of the Heart: Love Stories (Paperback)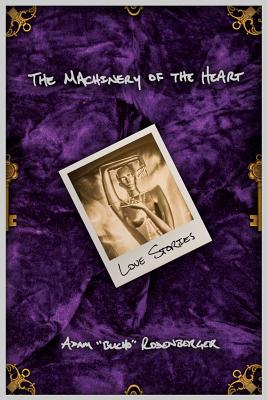 List Price: $25.00
Our Price: $20.00
(Save: $5.00 20%)
Description
---
This immersive and interactive second collection from Adam "Bucho" Rodenberger compiles 18 stories all revolving around the topic of love in some form or another; love of people, love of ideas, love of objects, love of the self, loss of love, or no love at all. While the stories in this collection are more traditional in nature than his previous collection ('Scaring the Stars into Submission'), they still contain Rodenberger's signature surrealist playfulness to help keep the avid reader both engaged and surprised.

This one's for lovers
And fighters alike,
For those that get lost in their passions at night.

This one's for those
That question and wander,
Those that speak whispers, and those that speak thunder.

This one's for believers
And for those who've lost faith,
Free-willers, the karmic, and those drunk on fate.

This one's for the meek,
The mild, the wild;
This one's for the elderly, the parent, the child.

This one's for the stillborns
And this one's for screamers,
This one's for the broken, the aged...

The dreamers.