Spike and Friends (Hardcover)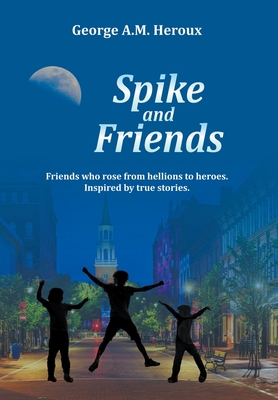 $27.50

Not in stock at store. Will, in most instances, ship from our warehouse in 7-10 days
Description
---
Spike and Friends was inspired by true stories following three life-long friends from childhood through adulthood.
Two of them, as lawyers, try fascinating court cases while the third friend becomes a military hero. The three work together, assist each another, and become heroic in their efforts.
Tony practices law with Spike, winning cases that involve a naked drunk driver, a man who murders his wife by tickling her, a man who believes he's slicing a loaf of bread instead of killing his wife, and a drunk driver who places his victim behind the wheel after a deadly crash. Frank is wounded in battle in Vietnam and courageously struggles to recover.
Spike and Friends is a book about true friendship.
The virtual autobiography/biography story of Spike and Friends is told by each of the three friends, Spike, Tony, and Frank, at various stages of their lives. What is consistent throughout is that they remain friends, from mischievous 10-year-old boys through life's ups and downs, often in heroic ways.
Although inspired by the lives of Bud Twiss, Earl Quantock, and this author, this book is a novel filled with sometimes outrageous fiction and observations as well as accurate reporting of true life tales.
Some stories that are absolutely true:
A man is charged with murder for over-tickling his wife.
Another man kills his wife believing that he is slicing a loaf of bread.
A drunk driver, driving while nude, is responsible for reckless homicide.
Another drunk driver attempts to prove that the victim was the driver.
Three ten-year-old boys were indeed hellions.
Spike and Friends is a book about the endurance of friendship: three childhood buddies who were prone to pranks in their youth but who become stand-up adults. They face life's challenges, helping each other out of troublesome, and sometimes amusing, situations.
The book is a novel, but it is also a virtual biography/autobiography inspired by real events.
Spike and Friends is a story for our times, when people depend on friends to stay on the right track, no matter what life may bring.
(About the Author)
George A.M. Heroux is a victim's rights lawyer, university instructor, playwright, and acclaimed author. Although he has a law degree from Albany Law School and an MBA from Florida Atlantic University, he is proudest of his efforts as a writer and playwright. He wrote the best-selling novel But for the Crash and a book that accurately predicted the future in I'm the President by Donald Thump. He also wrote a book on writing (Write Now ); a book for continuing education professionals (Continuing Professional Education-How); a book of short plays; eight full-length plays that have been successfully staged, including two musicals (The Rev and Moving On, the Musical); and two plays that became movies.