Welcome to Subterranean Books.
Thanks for checking in.
______________________________________________________________
The Intimate Bond: How Animals Shaped Human History (Paperback)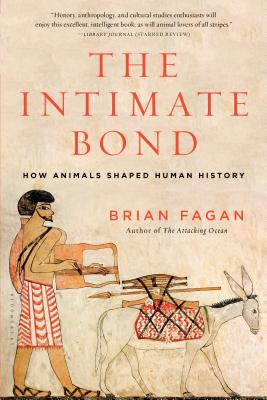 Description
---
New York Times bestselling author of The Attacking Ocean Brian Fagan shows how the powerful bond between Homo sapiens and other species has shaped our civilization and our character.
From the first wolf to find companionship in our prehistoric ancestors' camp, to the beasts who bore the weight of our early empires, to the whole spectrum of brutally exploited or absurdly pampered pets of our industrial age, animals--and our ever-changing relationship with them--have left an indelible mark on the history of our species and continue to shape its future.
Through an in-depth analysis of six truly transformative human-animal relationships, Fagan shows how our habits and our very way of life were considerably and irreversibly altered by our intimate bond with animals. Among other stories, Fagan explores how herding changed human behavior; how the humble donkey helped launch the process of globalization; and how the horse carried a hearty band of nomads across the world and toppled the emperor of China.
With characteristic care and penetrating insight, Fagan reveals the profound influence that animals have exercised on human history and how, in fact, they often drove it.
About the Author
---
Brian Fagan is the emeritus professor of anthropology at the University of California, Santa Barbara. He is the author of Beyond the Blue Horizon, Elixir, the Los Angeles Times bestseller Cro-Magnon, the New York Times bestseller The Great Warming, and The Attacking Ocean, among others. He has decades of experience at sea and is the author of several titles for sailors, including the widely praised The Cruising Guide to Central and Southern California. He lives in Santa Barbara, California.