Rethinking the Sinosphere: Poetics, Aesthetics, and Identity Formation (Cambria Sinophone World) (Hardcover)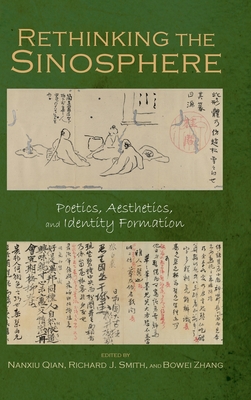 $168.99
Not in stock at store. Will, in most instances, ship from our warehouse in 7-10 days
Description
---
*This book is part of the Cambria Sinophone World Series, headed by Professor Victor H. Mair (University of Pennsylvania).
For hundreds of years, into the twentieth century, the culture groups in the areas we now know as China, Japan, Korea, and Vietnam shared a great many political and social values, religious beliefs, and artistic and literary traditions. These common cultural features were recorded and transmitted in the same basic written language--classical or literary Chinese (known as guwen/wenyan in China, Kanbun in Japan, Hanmun in Korea, and H nvan in Vietnam). The umbrella term for this shared language is "literary Sinitic"--a term designed to recognize the fact that although guwen/wenyan originally developed in China, it had a vibrant life of its own in other areas of East Asia (i.e., what this study terms the Sinosphere).
This huge but understudied body of written documents offers extraordinarily rich resources for examining issues of cultural continuity and change in this important region of the world. Unfortunately, in the aftermath of the political and social turmoil in East Asia during the late nineteenth and early twentieth centuries, all four cultures abandoned their use of literary Sinitic. As a result, a great many documents written in this important script have been ignored, leaving a substantial gap in our understanding of the relationship between the histories and cultures of premodern East Asia. Like its companion volume, Reexamining the Sinosphere: Transmissions and Transformations in East Asia, this book seeks to fill this gap.
One of the primary goals of this study is to break down the intellectual and cultural barriers that have made the Sinosphere difficult to see for itself. These barriers are of two sorts. One is the academic tendency toward intense specialization; most scholars of East Asia focus on a single country, a well-defined period, and an equally well-defined discipline (linguistics, philosophy, history, literature, art, etc.). Another is the tendency of scholars to privilege the country and period they study, and to adhere closely to their disciplinary training and outlook. To break down these barriers, a group of highly accomplished scholars committed to cross-cultural comparisons and interdisciplinary perspectives have been selected for this volume, and the result is a careful and critical examination of the complex cultural interactions that took place in premodern East Asia.
Among the many contributions of this study are its examination of different literary genres (including "classics," poetic primers, works for and about women, detective stories, and folksongs), its broad chronological scope (from the eleventh to the twentieth centuries), its equally extensive spatial range (including China, the Xi Xia Kingdom, Japan, Vietnam, and Korea), and its attention to "minority" cultures. Another distinctive feature of this volume is its exploration of epistemological and culture change in late-nineteenth- and early twentieth-century East Asia.
Rethinking the Sinosphere: Poetics, Aesthetics, and Identity Formation will appeal not only to academic specialists in the histories, philosophies, literary and artistic traditions of East Asia, but also to instructors of college-level courses in East Asian history and culture.