AUTOETHNOGRAPHY AS METHOD (Developing Qualitative Inquiry #1) (Hardcover)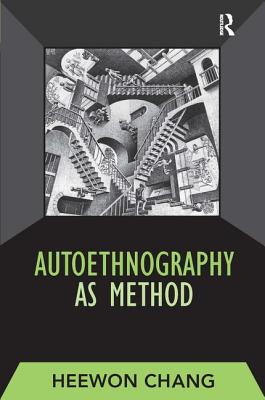 $112.80

May be on Backorder or may be Out of Print. May take a number of weeks to arrive if it arrives at all. We will confirm.
Other Books in Series
This is book number 1 in the Developing Qualitative Inquiry series.
Description
---
This methods book will guide the reader through the process of conducting and producing an autoethnographic study through the understanding of self, other, and culture. Readers will be encouraged to follow hands-on, though not prescriptive, steps in data collection, analysis, and interpretation with self-reflective prewriting exercises and self-narrative writing exercises to produce their own autoethnographic work. Chang offers a variety of techniques for gathering data on the self—from diaries to culture grams to interviews with others—and shows how to transform this information into a study that looks for the connection with others present in a diverse world. She shows how the autoethnographic process promotes self-reflection, understanding of multicultural others, qualitative inquiry, and narrative writing. Samples of published autoethnographies provide exemplars for the novice researcher to follow.
About the Author
---
Heewon Chang is Associate Professor of Education at Eastern University. Trained as an educational anthropologist, she has conducted ethnographic studies of adolescents in the United States and Korea, one of which was published in Adolescent Life and Ethos: An Ethnography of a US High School. Her other research interests include autoethnography, multicultural education, cultural identity, and gender issues. She founded, and serves as Editor-in-Chief of, two open-access online journals, Electronic Magazine of Multicultural Education and International Journal of Multicultural Education.
Praise For…
---
"This book is written by a competent ethnographer who has studied the role of the self in research, and the relationship of self to culture, and desires to provide that knowledge for those who want to include the self in their ethnographic research. This book will be useful for ethnographers who work from a traditional realist perspective and who want to reflect on personal experience in a systematic way. It is especially helpful for those who desire a methods cookbook to guide them. It thoroughly and insightfully covers all the steps for doing the kind of cultural analysis that includes experiences of the self that Chang advocates."
—Carolyn Ellis, Biography
"The author's writing is so clear and accessible that her first chapters could easily be used as an introduction to the entire self-narrative phenomenon. Beyond Chang's excellent overview, her specific intention is to provide a guidebook on how to conceive an construct a viable autoethnographic study, with detailed sections successively focusing on initial planning, data, collection, management, analysis, and interpretation, In the process she provides a usable bibliography, practical exercises, a schematic chart for visually organizing a self-study and a model example of an autoethnography. Useful as both an overview of a widely far-flung field and as a workbook for constructing a personal autoethnography. Highly recommended."
—CHOICE Magazine
"Heewong Chang's
Autoethnography as Method
is a superb introduction to the genre for qualitative researchers. Chang foregrounds the work by eloquently describing the complex interrelationship between culture and identity, then provides intriguing ways of reflecting on and exploring one's self through memory work, introspective analysis, and evocative writing. Chang demystifies the processes of creating autoethnography by providing readers clear guidance, rigorous expectations, and poignant examples from her own life story. This book is essential reading for both novices and seasoned researchers in the field."
—Johnny Saldaña, Arizona State University
"Richly nuanced and shedding new light on the varied and often quite fluid ways in which self and others connected to self interact, connect, and disconnect within the realm of culture, Chang's text invites researchers to include themselves as a research focus and to consider autoethnography as a tool to explore their own perspectives and to arrive at a deeper understanding of others. Those who are willing to take the first step will find a treasure trove of writing exercises and specific strategies to choose from. The result might be a short reflection on a single topic or a book length study that interprets one's life experiences from a cultural perspective. Autoethnography not only offers a way to make sense of one's own life, but it also has the potential to illuminate key themes and common understandings that can lead to a deeper appreciation of the diversity and complexity of human interaction."
-Carol Kennett, International Journal of Multicultural Education
"In keeping with the broad view of autoethnography espoused in the book, Chang provides a brief description of a wide variety of data collection techniques, including strategies for collecting personal memories, conducting self-observation, and gathering 'external' data (such as interviews and textual artifacts). The methods chapters cover a lot of ground, blending strategies for autobiographical recall and reflection with more traditional qualitative social science methods. One relatively unique feature of this book is a set of 'writing assignments' included in the methods chapters, designed to facilitate the collection of self-data and self reflection—and supplemented by nearly 50 pages of appended examples at the end of the book."

—Leon Anderson, Qualitative Research
"Chang offers new researchers and novice anthropologists an excellent starting place. Her book can facilitate the journey for those exploring research practices and deciding how, and in what capacity, to intentionally center themselves in their work. Chang's writing style is clear, and her tone makes the book accessible to nonacademics. Chang clearly expresses the conceptual and methodological understanding of the self as a window into cultural experience, and the self-transformative power of this process."
—Kate Mullin, Qualitative Health Research
"Although the book has an academic tone, it is practical, interesting and easy to read. It provides excellent background on the topic, providing new techniques that can be applied to one's work, whether in ethnography or other areas of qualitative research."
—Kay Corry Aubrey, QRCA Views
"I found Chang's (2008) book helpful in understanding how to do autoethnography, which may lead to my understanding how to write it. Chang writes in a straightforward and systematic way."
 —Martha M. Snyder, The Qualitative Report
"Heewon Chang confronts would-be autoethnographers with what it would take to make their work more genuinely ethnographic by gently guiding them toward the concept of culture and reviewing how ethnography works. Her journey includes an examination of her own multicultural background as a Korean-born American citizen married to a German mathematician, thus addressing her purpose in writing a book relevant to research issues in multiculturalism."
—Harry F. Wolcott, Emeritus, University of Oregon