Welcome to Subterranean Books.
Thanks for checking in.
______________________________________________________________
Popville (Hardcover)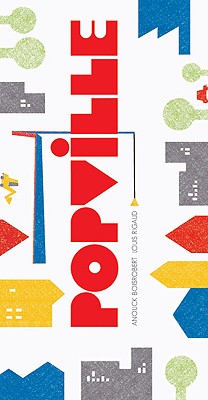 $16.99
Special Order, May be Out of Print
Description
---
DISCOVER POPVILLE Watch a city grow right before your eyes.
Open this ingenious and stylish pop-up book and see houses, apartments, factories, and power lines appear as you turn the page. Stylish retro design and clever paper engineering make this the must-have pop-up book of the year.
"Popville" is a 2011 Bank Street - Best Children's Book of the Year.
About the Author
---
ANOUCK BOISROBERT and LOUIS RIGAUD are graduates of the Ecole superieure des arts decoratifs in Strasburg, France. POPVILLE is their first book."
Praise For…
---
"Popville is a sweet, slender little pop-up book that illustrates the growth of a town from a single farmhouse to a thriving city in a series of stylized scenes that build, one upon the next, through a window cut out of the center of the page, so that each development literally overlays the ones beneath. My toddler has fallen in love with the book and its additive scenes, and the grownups I've shown it to finds it equally fascinating. The cutaway in the book's center is a genuinely clever bit of business that creates a sense of time's passage, and the climax (with a pair of foldouts on the sides of the pages) is filled with little gracenotes, like the bits of string that form the electric cables." —Cory Doctorow, BoingBoing.net