Welcome to Subterranean Books.
Thanks for checking in.
______________________________________________________________
Black Jack: The Ballad of Jack Johnson (Hardcover)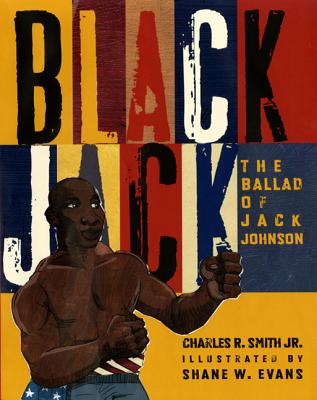 $17.84
Usually Ships from Warehouse in 1-5 Days
Description
---
Born as Arthur John Johnson in the southern state of Texas, Jack Johnson was one of the most renowned boxers of the twentieth century. Through hard work and persistence, he climbed the ranks, taking a swing and a jab and eventually busting the color barrier. As the first black man to win the Heavyweight Championship, there was more than a title on the line.
Published to commemorate the 100th anniversary of this history-making bout (July 4, 1910). This is an extraordinary marriage of poetry, fabulous collage artwork, and a splendid achievement in its own right.
About the Author
---
CHARLES SMITH JR. is a celebrated author, poet, and photographer. He has created more than twenty books, including Twelve Rounds to Glory: The Story of Muhammad Ali, a 2008 Corretta Scott King Honor Book and a 2008 Norman Sugarman Best Biography Honor Book and Chameleon, his first novel for young adults. He currently lives in Poughkeepsie, New York with his wife Gillian and three kids, Sabine, Adrian and Sebastian. SHANE EVANS has illustrated numerous books for children, including the Boston Globe-Horn Book Award winner Shanna's Ballerina Show. He attributes much of his influence to his travels to Africa, South America, Asia, Europe, the Caribbean, and much of the United States. He is a firm believer in education and creative development for all people.
Praise For…
---
"Charles Smith's poetry surges along, with a forceful rhythm that joins ballad and rap, as he follows "a mighty, fightin' man," challenging the color line as well as individual opponents around the world. Shane Evans' illustrations make Johnson's body a monument to intelligence and power." –Chicago Tribune

"This book is sure to be championed by reluctant readers with energy and restlessness just like Johnson's, but it is a strong selection for library and classroom read-alouds as well." —Starred, School Library Journal

"A rousing story, one that celebrates Johnson's dignity, pride, and determination." –Starred, Publishers Weekly

"The poetry is interspersed with quotes of the time, and illustrator Evans uses oil paint and ink to depict the somber, determined fighter, with collage elements of newspaper articles, maps, and crowds in the backgrounds to set the story firmly in time and place." —Horn Book

"The elegant simplicity and rat-a-tat rhythms land some stunners . . .  enhanced by Evans' lithe and swaggering artwork, which lends a tremendous visual charisma, grace, and grandeur." —Starred, Booklist

"Through poetry, quotations and some prose, the life of one of boxing's most important stars is celebrated, from his youth as the victim of bullies to the 1908 championship bout against a white fighter that made him a legend." —Kirkus Reviews