The Man with the Golden Arm (50th Anniversary Edition): 50th Anniversary Critical Edition (Paperback)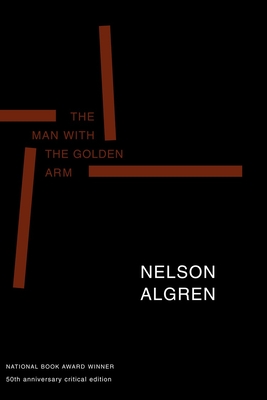 List Price: $21.95
Our Price: $18.95
(Save: $3.00 14%)
On our shelves now (while supplies last)
Description
---
The Man with the Golden Arm is Nelson Algren's most powerful and enduring work. On the 50th anniversary of its publication in November 1949, for which Algren was honored with the first National Book Award (which he received from none other than Eleanor Roosevelt at a ceremony in March 1950), Seven Stories is proud to release the first critical edition of an Algren work.
A novel of rare genius, The Man with the Golden Arm describes the dissolution of a card-dealing WWII veteran named Frankie Machine, caught in the act of slowly cutting his own heart into wafer-thin slices. For Frankie, a murder committed may be the least of his problems.
The literary critic Malcolm Cowley called The Man with the Golden Arm "Algren's defense of the individual," while Carl Sandburg wrote of its "strange midnight dignity." A literary tour de force, here is a novel unlike any other, one in which drug addiction, poverty, and human failure somehow suggest a defense of human dignity and a reason for hope.
Special contributions by Russell Banks, Bettina Drew, James R. Giles, Carlo Rotella, William Savage, Lee Stringer, Studs Terkel, Kurt Vonnegut, and others.
About the Author
---
One of the most neglected of modern American authors and also one of the best loved, NELSON ALGREN (1909–1981) believed that "literature is made upon any occasion that a challenge is put to the legal apparatus by conscience in touch with humanity." His own voluminous body of work stands up to that belief. Algren's powerful voice rose from the urban wilderness of postwar Chicago, and it is to that city of hustlers, addicts and scamps that he returned again and again, eventually raising Chicago's "lower depths" up onto a stage for the whole world to behold. Recipient of the first National Book Award for fiction and lauded by Hemingway as "one of the two best authors in America," Algren remains among our most defiant and enduring novelists. His work includes five major novels, two short fiction collections, a book-length poem and several collections of reportage. A source of inspiration to artists as diverse as Kurt Vonnegut and Donald Barthelme, Studs Terkel and Lou Reed, Algren died on May 9, 1981, within days of his appointment as a fellow of the American Academy of Arts and Letters.
Praise For…
---
"The finest American novel published since the war." –Washington Post Book World

"A true novelist's triumph." –Time

"Algren is an artist whose sympathy is as large as Victor Hugo's, an artist who ranks, with this novel, among our best American authors." –Chicago Sun-Times

"Powerful, grisly, antic, horrifying, poetic, compassionate ... [there is] virtually nothing more that one could ask." –New York Times Book Review