Welcome to Subterranean Books.
Thanks for checking in.
______________________________________________________________
If It's Not Funny It's Art (Paperback)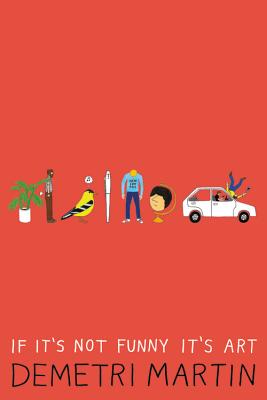 Description
---
New York Times bestselling author of This Is a Book and Point Your Face at This, Demetri Martin is back with another collection of hilarious drawings:

IF IT'S NOT FUNNY IT'S ART

Packed with hundreds of new illustrations and one-liners, IF IT'S NOT FUNNY IT'S ART is a peek into the ingenious mind of author/comedian/filmmaker Demetri Martin. Exploring the meaning of art, life, death, ennui and the elegant fart joke with a sensibility all its own, this collection is a perfect gift for word lovers, art appreciators and fans of Demetri's unique brand of comedy. Sure to make you laugh out loud, and if it doesn't, then you know it's art.

About the Author
---
Demetri Martin rose to relative obscurity doing stand-up comedy. He was a writer for Late Night with Conan O'Brien, a regular performer on The Daily Show with Jon Stewart, and starred in his own television series, Important Things with Demetri Martin. Martin has appeared in many films including Ang Lee's Taking Woodstock. His books, This Is a Book and Point Your Face At This were both New York Times bestsellers.