Sparks & Taylor's Nursing Diagnosis Pocket Guide (Paperback)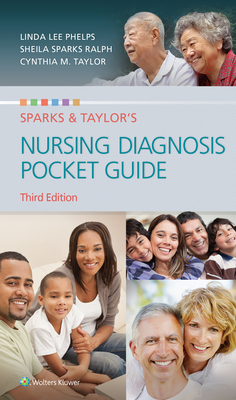 Description
---
Sparks and Taylor's Nursing Diagnosis Pocket Guide, third edition, by Dr. Linda Phelps, offers a quick guide to clearly written, authoritative care plans covering the entire life span and helping to meet patients' health care needs. A consistent, easy to use, four color design makes accessing information and designing care plans quicker and simpler. With its easy-to carry size, this guide is the perfect addition to the classroom and the clinical setting.

Sparks and Taylors Nursing Diagnosis Pocket Guide thoroughly integrates the nursing process, 2015-2017 NANDA-I diagnoses and standards, the Nursing Interventions Classification (NIC) and Nursing Outcomes Classification (NOC) labels. The guide is organized using a unique assessment framework based on the NNN Taxonomy of Nursing Practice: A Common Unifying Structure for Nursing Language (Dochterman & Jones, 2003) and the intervention terms from the International Classification for Nursing Practice (INCP Version 1; International Council of Nurses, 2005). This framework provides a comprehensive yet easy-to-use format for writing care plans for clients.
About the Author
---
Dr. Phelps has over 20 years of experience in a variety of nursing roles. She has worked as a staff RN in multiple clinical settings, including cardiac, medical-surgical, and intensive care. Dr. Phelps is currently Visiting Lecturer at Indiana University School of Nursing Indianapolis in the undergraduate nursing program. She has been an educator since 2008, teaching in associates, bachelors, and masters nursing programs.