Prosper Redding The Last Life of Prince Alastor (Paperback)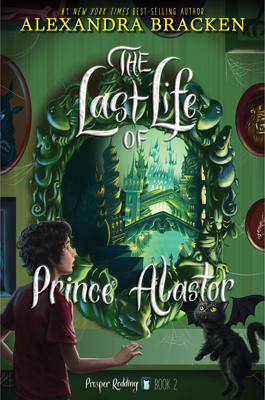 $7.99
Not in stock at store. Will, in most instances, ship from our warehouse in 7-10 days
Other Books in Series
This is book number 2 in the Prosper Redding series.
Description
---
Three hundred years ago, fate bound Prosper Redding and Prince Alastor of the Third Realm together. Now the human boy and fiend heir to the demon kingdom must put aside a centuries-old blood feud to save everything they love. 
Alastor will guide Prosper through the demon realm-under one huge condition: Prosper must enter into a contract with the malefactor residing in him, promising eternal servitude in the afterlife. With Prosper's sister in the clutches of the evil queen Pyra, Prosper has no choice but to agree. 
But when they arrive in Alastor's deliciously demonic home, the realm is almost as alien to Alastor as it is to Prosper-the lowest fiends have dethroned the ruling malefactors, while an unfathomable force called the Void is swiftly consuming the realm. The desperate fiends cling to the one person who says she can stop it: Pyra. 
As Prosper embarks on a perilous rescue mission to the Tower of No Return, he can't help but feel for the demons losing their home-even Alastor, who lives by a set of rules that have vanished in a new world. 
With the fates of humans and demons at odds, the battle lines are drawn. Long ago, Prosper's ancestor Honor Redding proved that humans and demons could never be friends. But is Prosper like his ancestor? And is Alastor the same demon who was betrayed by the one human he cared for? 
About the Author
---
Alexandra Bracken is the #1 New York Times and USA Todays best-selling author of the Passenger series and the Darkest Minds series. Born and raised in Arizona, she moved east to study history and English at the College of William & Mary in Virginia. After working in publishing for several years, Alex now writes full-time and can be found hard at work on her next novel in a charming little home that's perpetually overflowing with books. Visit her online at www.alexandrabracken.com and on Twitter @alexbracken.
Praise For…
---
*"The adventure through the well-realized, lovingly disgusting, monstrous world is a wild ride on its own, with one Hell of a climax. Its power increases through deft exploration of privilege, choice, and responsibility, themes that manifest in genuinely moving moments. A demonic buddy-comedy with as much danger as heart--fiendishly fun."
—
Kirkus (starred review)
"A complex, dark, and comedic tale full of page-turning adventure and plot twists... The characters are well developed, relatable, and draw readers easily into the story... Fans of comedic horror, mystery, fantasy, and adventure who have read the first one will enjoy this sequel."
—
School Library Journal
"This follow-up... throws this boy-demon odd couple into an even more precarious position, and madcap, mystical high-jinks ensue. With its balance of magic, humor, and heart, this sequel is a surefire crowd-pleaser."
—
BooklistPRAISE FOR THE DREADFUL TALE OF PROSPER REDDING
*"The story's mysteries, which involve the fates of multiple dimensions of reality, unfold slowly enough to build anticipation but quickly enough to keep readers furiously flipping pages... Bracken's cast is drawn in loving detail, and her twisty plot will keep readers guessing."—
Publishers Weekly, starred reviewPRAISE FOR THE DREADFUL TALE OF PROSPER REDDING
*"An infectious, entertaining series starter. Hapless, dry Prosper is at hilarious odds with his demanding, old-fashioned demon companion, and the thrilling plot twists will keep even the most savvy readers guessing. Clever, occasionally frightening, and always fun, this will hook plenty."—
Booklist, starred reviewPRAISE FOR THE DREADFUL TALE OF PROSPER REDDING
"Imaginative, exhilarating and outstandingly funny, Alexandra Bracken's newest work is devious and delightful."—
Shelf AwarenessPRAISE FOR THE DREADFUL TALE OF PROSPER REDDING
"Unique and humorous...The main characters, including the villain, are likable and flawed. The author's smooth transitions and delightful writing style will draw readers into the story with ease. This is a must-read for fans of Bracken and paranormal mysteries."—
School Library JournalPRAISE FOR THE DREADFUL TALE OF PROSPER REDDING
"There's a wealth of humor here, especially in Prosper and Alastor's back-and-forth sardonic banter, and Prosper himself makes a wittily sarcastic, clever narrator."—
The Bulletin of the Center for Children's Books