Little Do We Know (Paperback)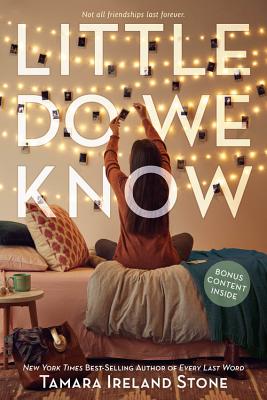 $9.99
Backordered. Not in stock at store and may take a number of weeks to arrive.
Description
---
Lifelong best friends and next-door neighbors Hannah and Emory have never gone a single day without talking. But now its senior year and they haven't spoken in three months. Not since the fight, where they each said things they couldn't take back. They're aching to break the silence, but those thirty-six steps between their bedroom windows feel more like thirty-six miles.
Then one fateful night, Emory's boyfriend, Luke, almost dies. And Hannah is the one who finds him and saves his life.
As Luke tries to make sense of his near-death experience, he secretly turns to Hannah, who becomes his biggest confidante. In Luke, Hannah finds someone she can finally talk to about all the questions she's grappling with. Emory just wants everything to go back to normal-the way it was before the accident. She has no idea why her relationship is spiraling out of control. But when the horrifying reason behind Hannah and Emory's argument ultimately comes to light, all three of them will be forced work together to protect the person with the biggest secret of all.
In the follow-up to her New York Times bestseller, Every Last Word, Tamara Ireland Stone crafts a deeply moving, unforgettable story about love, betrayal, and the power of friendship.
About the Author
---
Tamara Ireland Stone writes young adult and middle grade novels. Her New York Times bestseller, Every Last Word, won the Cybils Young Adult Fiction Award, the Georgia Peach Book Award, and was a YALSA Teens' Top Ten pick. She is also the author of Time Between Us, which has been published in over twenty countries; its sequel, Time After Time; and Click'd, the first book in her new middle-grade series.
Before she began writing fiction full time, Tamara spent twenty years in the technology industry. She co-founded a woman-owned marketing strategy and communications firm where she worked with small startups as well as some of the world's largest software companies. When she's not writing, she enjoys skiing, seeing live music, watching movies, and spending time with her husband and two children. She lives in the San Francisco Bay Area. Visit her at TamaraIrelandStone.com.
Praise For…
---
"Little Do We Know is a beautiful, affecting novel. Stone writes compellingly about the power of friendship, of love."—New York Times best-selling author Luanne Rice

"Beautiful, heartfelt, deep, and real. This book broke my heart and I loved every minute of it."—Robyn Schneider, author of The Beginning of Everything

* "Touching on weighty issues, including sexual harassment, religious crises, friendship, and taboo love, Stone writes a thought-provoking novel that challenges conventional ideas. With well-developed detail, the characters have realistic vulnerabilities and experience profound transformations that lead them to look at the world differently."—Publishers Weekly, starred review

"Little Do We Know is a sharp, affirming look at the boundaries of faith, the resilience of families, and all of the imperfect ways that we love one another. Through Hannah and Emory, Tamara Ireland Stone has created a beautiful testament to friendship and the intricate patterns we weave throughout each other's lives."—Robin Benway, National Book Award winner and New York Times bestselling author of Far From the Tree