How Did This Happen?: Poems for the Not So Young Anymore (Hardcover)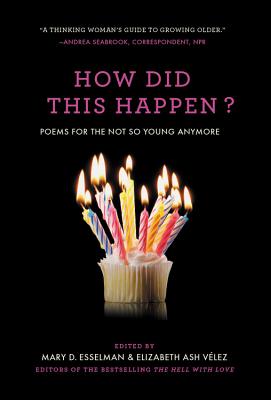 $16.99
Usually Ships from Warehouse in 1-5 Days
Description
---
From the bestselling authors of The Hell with Love, a fierce, funny, touching collection that takes the sting out of "aging while female."
About the Author
---
MARY D. ESSELMAN is a freelance writer and teacher currently working for the University of Virginia's Women's Center.

ELIZABETH ASH VELEZ is the academic coordinator of the Community Scholars Program and professor of feminist theory at Georgetown University.
Praise For…
---
"This wondrous, salty, poignant, witty poetry collection is an invitation to all us women of a certain age to get real about Life after Babedom. In my loooooong experience, whenever the times in my life are a changing, nothing makes me feel quite as deeply understood and accompanied than a good poem. So please: Read! Laugh! Cringe! and Carry On!"—Martha Woodroof, author of Small Blessings

"After all the eye creams and diets and the miscarriage and the 3 A.M. terrors, we will at least and forever have poems. This gorgeous, hilarious, heartbreaking and wise roadmap to becoming the Women whose Roots are Showing, feels like stumbling into that secret Facebook group you always dreamed of: where your very best friends are all waiting for you brandishing poems of pain and laughter, and admonishing you to 'tell the truth if you can.' And thanks to Mary and Elizabeth, you'll find that you can."—Dahlia Lithwick, Senior Editor, Slate

"Any anthology of poems must answer the question "so what?" Why this gathering of poems about . . . meerkats, ghost towns, salt and pepper shakers, New Jersey diners? How Did This Happen? Poems for the Not So Young Anymore answers the question in spades, reminding us at every turn that we are mortal, aging, and not alone. Just as moving and entertaining as the curated poems (contributors range from Euripides to Sharon Olds, Emily Dickinson to Ada Limón, Shakespeare to Rita Dove) are the Introduction and contextualizing prose passages by the editors themselves, whose moxie, stand-up humor, pop-cultural savvy, authenticity, and humanity shine forth with forthright, intelligent consolation on every page. This is a book for women (and men!) of all ages."—Lisa Russ Spaar, Professor of English and Creative Writing, University of Virginia

"This is the book I didn't even know I needed-until I found myself crying within the first few pages. 'Growing up' and 'growing older' can feel lonely-thinking no one else feels the same way or experiences the same losses and hopes and fears. In these poems, and in the hilarious, touching commentary accompanying them, I found solace and joy. How Did This Happen is not your mother's anthology. It is a fierce, funny, guided meditation, set in poetry, through the insult, grit and grace of aging; a thinking woman's guide to growing older. This is a book to love, now and for the months and years to come."—Andrea Seabrook, NPR