Be Your Own Shaman: Heal Yourself and Others with 21st-Century Energy Medicine (Paperback)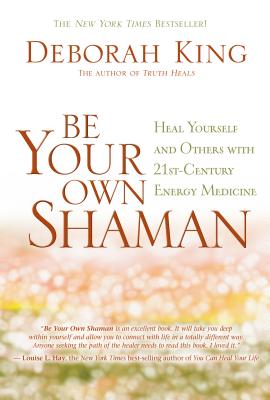 $16.99
Not in stock at store. Will, in most instances, ship from our warehouse in 7-10 days
Description
---
This fascinating book takes you on a one-of-a-kind journey into the esoteric world of healing. You might not realize it, but just about everyone is a natural-born healer! In fact, you probably already have some of the paranormal abilities related to this gift. For example, you may know who's calling before you answer the phone, or be able to sense what others are thinking or feeling. But you can further develop your inner talents and become your own shaman, capable of healing whatever ails you and effecting change in someone else's energy field and body.
In Master Healer Deborah King's uniquely informative work, you will learn both Eastern and Western concepts and techniques from the earliest recorded healing practices some 5,000 years ago all the way up to modern times with John of God in Brazil and King's own powerful cutting-edge approach. You'll find out how to protect yourself from psychic attack, and how to get beyond any limiting beliefs you may hold. Self-knowledge leading to self-mastery is the ultimate quest, the pivotal adventure of a lifetime. Become the person you always knew you could be by taking this magical tour into the heart of healing!
About the Author
---
Master healer and teacher Deborah King was a successful attorney in her 20s when a diagnosis of cancer sent her on a search for truth that radically changed her life. Unwilling to undergo invasive surgery, she turned to alternative medicine and experienced an amazing remission at the hands of a healer. Along the way, she conquered the alcohol and drug addictions she had used to bury an abusive childhood. Leaving the corporate arena for the mysterious world of healers, sages, and shamans, Deborah mastered ancient and modern healing systems, ultimately developing a powerful healing technique of her own.
Combining her personal history and wisdom, Deborah wrote the national bestseller Truth Heals: What You Hide Can Hurt You, which explores the powerful relationship between the suppression of painful emotions and their impact on our health and happiness.
Deborah travels worldwide, helping thousands of people transform their lives through her experiential workshops. She offers a yearlong online training course, the "21st-Century Energy Medicine Program," for those who are interested in healing themselves and others. She also hosts a popular weekly Hay House radio show.