Welcome to Subterranean Books.
Thanks for checking in.
______________________________________________________________
Who Is That Man?: In Search of the Real Bob Dylan (Paperback)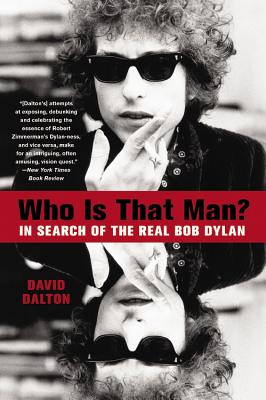 $16.80
Usually Ships from Warehouse in 1-5 Days
Description
---
Now in paperback and with a new foreword, a kaleidoscopic look at the many faces of Bob Dylan, legendary folk singer-songwriter and winner of the 2016 Nobel Prize in Literature.

For almost half a century, Bob Dylan has been a primary catalyst in rock's shifting sensibilities. Few American artists are as important, beloved, and endlessly examined, yet he remains something of an enigma. Who, we ask, is the "real" Bob Dylan? Is he Bobby Zimmerman, yearning to escape Hibbing, Minnesota, or the Woody Guthrie wannabe playing Greenwich Village haunts? Folk Messiah, Born-Again Bob, Late-Elvis Dylan, Jack Fate, or Living National Treasure? In Who Is That Man? David Dalton--cultural historian, journalist, screenwriter, and novelist--paints a revealing portrait of the rock icon, ingeniously exposing the three-card monte games he plays with his persona.
Guided by Dalton's cutting-edge insights and myth-debunking point of view, Who Is That Man? follows Dylan's imaginative life, integrating actual events with Dylan's words and those of the people who know him most intimately. Drawing upon Dylan's friends and fellow eyewitnesses--including Marianne Faithfull, Allen Ginsberg, Peter Stampfel, Larry "Ratso" Sloman, Eric Andersen, Nat Hentoff, Andrew Oldham, Nat Finkelstein, and others--this book will provide a new perspective on the man, the myth, and the musical era that forged them both.
About the Author
---
DAVID DALTON is a New York Times-bestselling author, founding editor of Rolling Stone, recipient of the Columbia School of Journalism Award, and winner of the Ralph J. Gleason Best Rock Book of the Year award for Faithfull. He has written some twenty-odd books, including biographies of James Dean, Jim Morrison, Janis Joplin, Sid Vicious, the Rolling Stones, and, in 2009, a critically acclaimed biography of Andy Warhol, Pop. Dalton is the coauthor (with Jonathan Cott) of Get Back, the only book ever commissioned by the Beatles. He lives in upstate New York with his family and an assortment of llamas, horses, sheep, and a pig named Tiny (hint, he isn't).