The End of the End of the Earth: Essays (CD-Audio)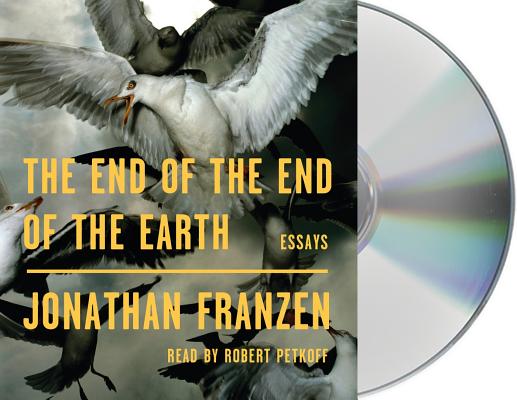 $32.99
Special Order, May be Out of Print
December 2018 Indie Next List
---
"Exacting and meticulous, Franzen'sThe End of the End of the Earth reports on the state of the environment from Africa to Antarctica and relentlessly questions his role as a privileged Westerner in a world of vast inequality. Above all, he puts everything in the context of climate change. Using birds as his moral compass, Franzen evokes the deep joy they bring when he sees them in the wild and delivers heartbreaking accounts of ruined habitats, wanton slaughter of songbirds, and the devastating toll of industrial fishing on seabirds. No less tragic are the stories of impoverished people who live among these birds, and Franzen continually questions the ethics of worrying about avian suffering in the midst of so much human suffering. Ultimately as hopeful as it is anguished, Franzen's book takes biodiversity as its guiding principle: there's no one way to save the world, just as there's no single set of rules governing how to live in it."
— Laurie Greer, Politics and Prose Bookstore, Washington, DC
Description
---
A sharp and provocative new essay collection from the award-winning author of Freedom and The Corrections.

In The End of the End of the Earth, which gathers essays and speeches written mostly in the past five years, Jonathan Franzen returns with renewed vigor to the themes—both human and literary—that have long preoccupied him. Whether exploring his complex relationship with his uncle, recounting his young adulthood in New York, or offering an illuminating look at the global seabird crisis, these pieces contain all the wit and disabused realism that we've come to expect from Franzen.

Taken together, these essays trace the progress of a unique and mature mind wrestling with itself, with literature, and with some of the most important issues of our day, made more pressing by the current political milieu. The End of the End of the Earth is remarkable, provocative, and necessary.
About the Author
---
Jonathan Franzen is the author of Purity, The Corrections, Freedom, among other novels, and works of nonfiction including Farther Away and The Kraus Project, all published by Farrar, Straus and Giroux. He is a member of the American Academy of Arts and Letters, the German Akademie der Künste, and the French Ordre des Arts et des Lettres.

Robert Petkoff has won multiple AudioFile Earphones awards for his acclaimed narrations. He was named Best Voice of Fiction & Classics for his reading of The Evolution of Bruno Littlemore by Benjamin Hale. His other narration credits include Oath of Office by Michael Palmer, Gangster Squad by Paul Lieberman, and books by David Foster Wallace.Petkoff has appeared on Broadway, Off-Broadway, and in theaters across America and Europe.  He has worked in television and film. His theater credits include Lord Evelyn Oakleigh in the Broadway production of Anything Goes, Perchik as part of the Tony-nomianted cast of Fiddler on the Roof, and Hubert Humphrey in the Tony award-winning play All the Way. He has also had numerous roles in television on shows such as Law and Order and Married with Children.
Praise For…
---
"Narrator Robert Petkoff gives voice to the edgy, eclectic, and energetic ideas of National Book Award winner Jonathan Franzen. Petkoff hits the difficult balance between being ironic and earnest that is so characteristic of the author's essays. ...For fans of his fiction and nonfiction alike, this is a title one can dip in and out of on long walks or slow Sunday afternoons. Petkoff makes sure this is an entertaining, as well as contemplative, experience." -AudioFile