City of Ink: A Mystery (Li Du Novels #3) (Hardcover)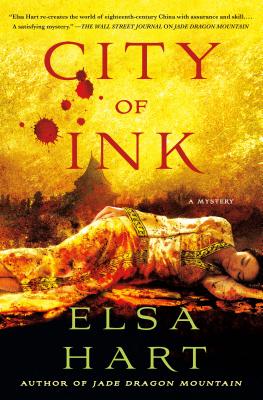 $25.99
Not in stock at store. Will, in most instances, ship from our warehouse in 7-10 days
Other Books in Series
This is book number 3 in the Li Du Novels series.
Description
---
One of 2018's Best Mysteries by Publisher's Weekly
One of the Best Audiobooks to Listen to in October by The Washington Post
"This entry solidifies her status as a top-notch historical mystery author." – Publisher's Weekly (starred review)
"Richly detailed novel of life and crime in 18th century China." –The Wall Street Journal

Following the enthralling 18th century Chinese mysteries Jade Dragon Mountain and White Mirror, comes the next Li Du adventure in City of Ink.
Li Du was prepared to travel anywhere in the world except for one place: home. But to unravel the mystery that surrounds his mentor's execution, that's exactly where he must go.
Plunged into the painful memories and teeming streets of Beijing, Li Du obtains a humble clerkship that offers anonymity and access to the records he needs. He is beginning to make progress when his search for answers buried in the past is interrupted by murder in the present.
The wife of a local factory owner is found dead, along with a man who appears to have been her lover, and the most likely suspect is the husband. But what Li Du's superiors at the North Borough Office are willing to accept as a crime of passion strikes Li Du as something more calculated. As past and present intertwine, Li Du's investigations reveal that many of Beijing's residents — foreign and Chinese, artisan and official, scholar and soldier — have secrets they would kill to protect.
When the threats begin, Li Du must decide how much he is willing to sacrifice to discover the truth in a city bent on concealing it, a city where the stroke of a brush on paper can alter the past, change the future, prolong a life, or end one.
About the Author
---
Elsa Hart is the author of several acclaimed mystery novels set in eighteenth-century China, including City of Ink, one of Publishers Weekly's Best Books of 2018.
She was born in Rome, but her earliest memories are of Moscow, where her family lived until 1991. Since then she has lived in the Czech Republic, the U.S.A., and China. She earned a B.A. from Swarthmore College and a J.D. from Washington University in St. Louis School of Law.
Praise For…
---
"Highly atmospheric and elegantly appointed, this mystery from Hart (The White Mirror, 2016, etc.) shines brightest in her detective's sublime cat-and-mouse interrogations of the gallery of witnesses and suspects. The introverted, intellectual sleuth is a perfect match for most any armchair detective." –Kirkus (starred review)
"The plot increases in complexity with every chapter . . ." –The Washington Post
"[City of Ink] is her best . . ." –St. Louis Post-Dispatch
"Rich in period detail, a sharply rendered exotic setting, and a web of well-crafted plots, Li Du's third novel will appeal to fans of historical mysteries by Lisa See, Laura Joh Rowland, and Abir Mukherjee." — Booklist (starred review)
"Elsa Hart's third Li Du novel continues to impress . . . With an intelligent plot, intriguing characters, and historical depth, this book is a delight!" – Historical Novel Society