Wake Up Girl, YOU ARE WORTHY: Stop Hiding, You Are Valuable: Explore Your Dreams, Master Your Vision, Dominate Your Brilliance(TM) and by Golly, Str (Paperback)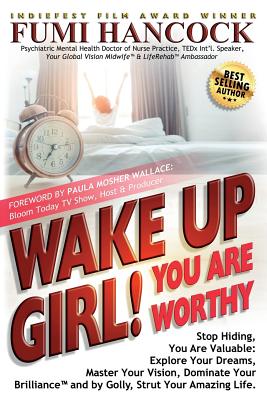 $18.39

Not in stock at store. Will, in most instances, ship from our warehouse in 7-10 days
Description
---
Are you confused, frustrated, stressed, overworked, overwhelmed, discontented with life, often depressed and pre-occupied with sleepless nights? Are you afraid that you may be misaligned with destiny, and experiencing agony when trying to discover your passion?
Are you ready to make your next success shift?
An inspirational and thought provoking innovative guide for emerging creatives, professional intrepreneurs, and visionary entrepreneurs, ready to master their skills, explore their dreams, dominate their next level success and live an amazing life.
This is not a "get rich quick scheme" which tells you how to get wealthy in one second. It is not meant for those who still desire to live in denial and are not ready to face their reality. It is certainly not meant for those who desire to stand still, just talk about what they want to do, and are not ready to take action.
Should you choose to accept this mission, "Wake Up Girl. You Are Worthy " will challenge you to live out your greatness by reaffirming what you were designed for. You will join the elite group of my Fearless Visionaries(TM), who have decided to move beyond ordinary living, to ditch fear, and allow the visionary in them to leap out, for ultimate success. These Fearless Visionaries are ready to birth their purpose, unhindered by outside or inside threats.
"Dr. Princess Fumi is worthy because she is walking in her calling despite everything that has tried to stop her. She is worthy as she fought for her life and the lives of her children. She is worthy as she learned everything she could to help others."
- Paula Mosher Wallace, Bloom Today, Awarding winning Host & TV Producer