Fast Facts about Competency-Based Education in Nursing: How to Teach Competency Mastery (Paperback)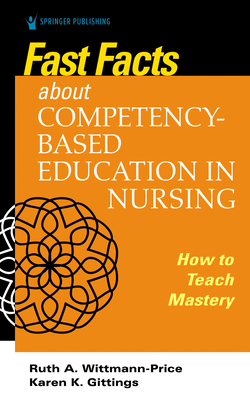 $49.50

Not in stock at store. Will, in most instances, ship from our warehouse in 7-10 days
Description
---
"Competency-based education...provides an avenue to promote institutional accountability, address employer concerns, and assist with student transfer of knowledge and skills."
-Mary Ellen Smith Glasgow, PhD, RN, ANEF, FAAN
Dean and Professor
Duquesne University
The first book of its kind, this concise, step-by-step guide written for novice and experienced educators distills all the essentials every nursing instructor needs to know to implement a Competency-Based Education (CBE) curriculum, teach with competencies, and evaluate students' mastery. Grounded in a learner-centered paradigm, CBE focuses on outcomes and skills rather than relying on time-based training. It facilitates in-depth learning that encompasses all three learning domains -- cognitive, skills, and attitudes -- guided by the individual pace of each student.
Fast Facts about Competency-Based Education in Nursing addresses the theory and practical knowledge needed to teach using CBE. Beginning with how to create competencies that align with student learning outcomes, subsequent chapters show how to integrate them into a new or existing nursing curricula. Next, this quick reference shows how to evaluate and assess students using CBE. Finally, it presents how to implement a system of quality improvement to continuously ensure the competencies produce safe, skilled nurses. Brimming with useful tips based on the authors' extensive experience and abundant practical examples, this is an incomparable reference for any educator seeking superior, more qualitative student assessment and outcomes.
Key Features:
Demonstrates in detail how to implement CBE and assess students using CBE
Illustrates how to integrate CBE into curriculum using an organizing framework
Shares expert teaching/learning tips through Evidence-Based Teaching Boxes
Helps educators to develop teaching objectives and real-world application processes
Describes specific competency-based education curricula
Examines how different learning styles thrive in a CBE learning environment
Offers separate chapters for using CBE with BSN, MSN, and DNP students