Index Cards: Selected Essays (Paperback)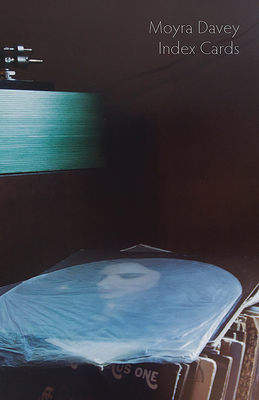 $17.95
On our shelves now. We will confirm availability.
Staff Reviews
---
Davey is an artist, photographer, writer and filmmaker, and the book takes on the quality of exactly what the title implies — blurbs perfect for picking up and putting down. This format is especially appealing with our attention spans pulled in so many different directions at once. Covering much ground in a stream of consciousness, diaristic format, you can take this book with you anywhere, or look forward to some bits, and bob in your spare time. - Gena

— From
Summer Reads
Description
---
An essential selection of Moyra Davey's sly, surprising, and brilliant essays
In these essays, the acclaimed artist, photographer, writer, and filmmaker Moyra Davey often begins with a daily encounter—with a photograph, a memory, or a passage from a book—and links that subject to others, drawing fascinating and unlikely connections, until you can almost feel the texture of her thinking. While thinking and writing, she weaves together disparate writers and artists—Mary Wollstonecraft, Jean Genet, Virginia Woolf, Janet Malcolm, Chantal Akerman, and Roland Barthes, among many others—in a way that is both elliptical and direct, clearheaded and personal, prismatic and self-examining, layering narratives to reveal the thorny but nourishing relationship between art and life. 
About the Author
---
Moyra Davey is a New York-based artist whose work comprises the fields of photography, film and writing. She has produced several works of film, most recently i confess (2019), which will premiere in North America at the Museum of Modern Art. She is the author of Burn the Diaries, The Problem of Reading, and is the editor of Mother Reader: Essential Writings on Motherhood. Her work is held in major public collections, including the Museum of Modern Art and the Metropolitan Museum of Art in New York, and Tate Modern in London. She is a 2020 recipient of the John S. Guggenheim Memorial Foundation Fellowship.
Praise For…
---
The book contains Davey's erudite, subtle, daring thoughts about film and photography, text and image, art and life...Davey's tone throughout is at once curious and recursive, sure enough of her wandering method and sufficiently unsure of where it is leading her. The main impression one comes away with is of an eminently generous mind and maker.
— 4Columns

Brilliant.
— Art in America

She writes as if there were no flesh between her mind and her hand, and reading her feels like chatting to a longtime friend, the conversation switching organically from maternity.
— Art-Agenda

The publication Index Cards, a collection of essays and the texts, themselves essay-like, that serve to pace her films—promises to not only celebrate but also further amplify the schisms in her art, the wonderful confusion of categories (aesthetic, theoretical, political, national, linguistic) that animate her work.

— Kaelen Wilson-Goldie - Artforum

The essays in Index Cards gather and swell with invisible force, disperse and settle like the dust Davey blows from the tops of her books.

— Bookforum

Index Cards could be read as a meditation on reading and its relationship to labor (creative, domestic), illness, gender, history, and selfhood. The essays are rich with allusion (Genet, Walser, Woolf, Baldwin, countless others), though the references are handled without pretension—it amounts to an honest indexing of one reader's very good library.

— Brooklyn Rail

This is a gem of a book. Davey is an artist, photographer, writer and filmmaker, and the book takes on the quality of exactly what the title infers — blurbs on index cards, perfect for picking up and putting down. This format is especially appealing with our attention spans pulled in so many different directions at once. The ground she covers, the connections she makes, and the stream of consciousness of her essays is inspiring. You can take this book with you anywhere. If you are like me and find the best things by bumping into them while looking in the other direction, this is for you.
— Gena Brady - Buzzfeed

Davey writes with a ruthless honesty – many essays include diary entries – and always with an erudite flair. What a lark to have a writer with such a shrewd and multifaceted imagination be themselves the subject of inquisition. This sinewy collection is for ardent fans of Davey and newcomers alike. 
— Irish Times

Davey has constructed a practice conscious of
its own past and reliant on radical self-doubt. Her photographs, films, and
essays cross-reference and depend on one another as she makes a subject of her
own process and its intentions, fears, and failures.
— Paris Review

She seems to perpetually glance back in order to look forward. This propagates the incestuous slant in her practice, where the work in one medium is taken up in another. Davey follows the dérive—welcoming the accident, the slippage, the digression, the drift.
— The Believer

Davey's unaffected and plain style adds to this sense of the collection's lucidity. Her language is stunning in its directness, its lack of artifice. It is immediate and intimate, as if Davey has miraculously collapsed the wall between thinking and writing. And yet there is a mournfulness to her gaze, a patience and humility that evokes Sontag's idea of the author as having little left to lose. We imagine Davey on the other side of a life, relieved of the anxious egotism that terrorizes us and having at last acquired the humility and lucidity to speak clearly and truthfully.
— The Rumpus

On screen the many turns her ideas take can induce a kind of mental vertigo; on the page, it is a pleasure to have the time to follow each volute of thought slowly, with the attention it requires.
— TSL

Moyra Davey's writings are intense meditations on desire and knowledge, limits and wellness, domestic life, literature, traces and art: a life of the body and mind. Originally written in tandem with her photography and video work, these pieces both narrate and propel her artistic process. The art world has long known that Moyra Davey is one of the most interesting, challenging, and sincere contemporary writers. Now others will know it too.
— Chris Kraus

Her formal, deadpan, off-kilter sensibilities celebrate the worries of a writer, and she will catch you off guard with her smudged, elegant, low-tech intelligence. Just look around where you live and you will see what she sees—tiny, lovely still-lifes of neglect that demand respect. It may take you a while to notice, but she's the real thing.
— John Waters

Her work is steeped in literature and theory without being deformed by contemporary iterations of such. I have a deep admiration of her as an artist, thinker, writer, and person.
— Maggie Nelson