Welcome to Subterranean Books.
Thanks for checking in.
______________________________________________________________
Lights on a Ground of Darkness: An Evocation of a Place and Time (Paperback)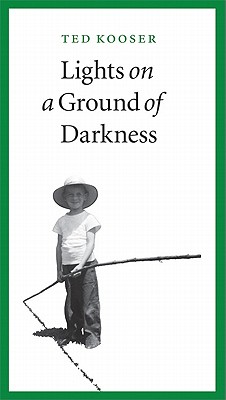 $10.95
Usually Ships from Warehouse in 1-5 Days
Description
---
Like the yellow, pink, and blue irises that had been transplanted from house to house over the years, the stories of poet Ted Kooser's family had been handed down until, as his mother lay ill and dying, he felt an urgency to write them down. With a poet's eye for detail, Kooser captures the beauty of the landscape and the vibrancy of his mother's Iowa family, the Mosers, in precise, evocative language. The center of the family's love is Kooser's uncle, Elvy, a victim of cerebral palsy. Elvy's joys are fishing, playing pinochle, and drinking soda from the ice chest at his father's roadside Standard Oil station. Kooser's grandparents, their kin, and the activities and pleasures of this extended family spin out and around the armature of Elvy's blessed life. Kooser has said that writing this book was the most important work he has ever undertaken because it was his attempt to keep these beloved people alive against the relentless erosion of time.
About the Author
---
Ted Kooser, winner of the Pulitzer Prize in Poetry and former U.S. poet laureate, is Presidential Professor of the University of Nebraska. He is the author of twelve books of poetry, including Valentines (Nebraska 2008) and The Blizzard Voices (available in a Bison Books edition). His award-winning prose book, Local Wonders: Seasons in the Bohemian Alps, is also available in a Bison Books edition.
Praise For…
---
"Written in a prose as spare as a winter sunset, [Lights on a Ground of Darkness] is an elegy, not just for Kooser's forebears but for all of us."—David L. Ulin, Los Angeles Times
-David L. Ulin

"Kooser gratefully squeezes every drop from his memories of these long-departed people and what they told him of even longer-departed forebears. . . . A tiny gem of remembrance that resonates with certain passages of Willa Cather, James Agee, and Wendell Berry."—Ray Olson, Booklist
-Ray Olson

"In this brief book, just 72 pages long, the Pulitzer Prize-winning poet and former U.S. poet laureate describes his family in precise, evocative prose."—Publishers Weekly

"Kooser's book is a gift—his irises are open wide, and his book will open those of his readers, to fully appreciate the fragility of life and a family's love."—Dan Coffey, ForeWord
-Dan Coffey

"Few of us can write as well as Ted Kooser, but we should, like him, overcome the stumbling block of perfection. We all have stories to tell of a place and a time and a people, and our children and grandchildren ought to know those stories, book-worthy or not. His book is one model, and a good one, of how we might go about doing it."—Tom Wylie, Bloomsbury Review
-Tom Wylie

"I recently transplanted the tubers of some of my grandmother's prize-winning irises from her Nebraska garden into my backyard; her garden is diminishing now, as she cannot care for it as she once did. Kooser's book reminds me why I love irises above all flowers—they are as frivolous as any other flower, I suppose, but they are packed with history, because they multiply and the only way to keep them thriving is to divide and share them. When irises bloom, they are young again, just as the people Kooser writes about are when he shares his precise observations. Any reader who has ever considered writing his own family history can read Lights on a Ground of Darkness and be inspired."—Jenny Shank, NewWest.com
-Jenny Shank