Matterhorn: A Novel of the Vietnam War (Hardcover)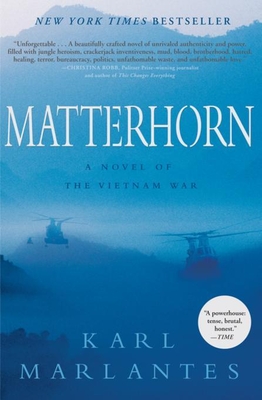 $24.95
Email or call for price.
Summer '11 Reading Group List
---
"Every war has produced seminal fiction, but in the case of Vietnam there have been few examples. Marlantes now increases that list with a towering, majestic novel of men in combat. Like all great literature, his work transcends a particular war because of the universality of his characters and themes. This is a novel that will endure."
— Bill Cusumano, Nicola's Books, Ann Arbor, MI
Description
---
Intense, powerful, and compelling, Matterhorn is an epic war novel in the tradition of Norman Mailer's The Naked and the Dead and James Jones's The Thin Red Line. It is the timeless story of a young Marine lieutenant, Waino Mellas, and his comrades in Bravo Company, who are dropped into the mountain jungle of Vietnam as boys and forced to fight their way into manhood. Standing in their way are not merely the North Vietnamese but also monsoon rain and mud, leeches and tigers, disease and malnutrition. Almost as daunting, it turns out, are the obstacles they discover between each other: racial tension, competing ambitions, and duplicitous superior officers. But when the company finds itself surrounded and outnumbered by a massive enemy regiment, the Marines are thrust into the raw and all-consuming terror of combat. The experience will change them forever. Written by a highly decorated Marine veteran over the course of thirty years, Matterhorn is a spellbinding and unforgettable novel that brings to life an entire world--both its horrors and its thrills--and seems destined to become a classic of combat literature.
About the Author
---
A graduate of Yale University and Rhodes Scholar at Oxford University, Karl Marlantes served as a Marine in Vietnam, where he was awarded the Navy Cross, the Bronze Star, two Navy Commendation Medals for valor, two Purple Hearts, and ten air medals. This is his first novel.
Praise For…
---
Visceral . . . Evocative . . . We feel the Marines' exhaustion as they dig gun pits, carry dead and wounded comrades, and nearly die from hunger. . . . We hear the scream of the M-16s, the thunk of mortar shells, the hammering of AK-47s and the crack of bullets. We smell the stink of fear, blood and unwashed bodies. . . . [Marlantes] pitches us into a harrowing narrative we won't soon forget." USA Today

I've laughed at Catch-22 and wept at The Thin Red Line, but I've never encountered a war novel as stark, honest and wrenching as Matterhorn. . . . By turns, this book horrified me, crushed me and beat me up, but I found it nearly impossible to stop reading. More than any living American novelist I've read, Marlantes made me feel what I already must have known: that war is worse than hell." NPR

Matterhorn is a novel of great authority and humanity. It builds inexorably to a devastating and magnificent final movement." Charles Frazier, author of Cold Mountain

Unforgettable . . . A beautifully crafted novel of unrivaled authenticity and power, filled with jungle heroism, crackerjack inventiveness, mud, blood, brotherhood, hatred, healing, terror, bureaucracy, politics, unfathomable waste, and unfathomable love." Christina Robb, Pulitzer Prizewinning journalist and author of This Changes Everything

"Matterhorn is that rare modern novel destined to become a classic. Karl Marlantes has written a riveting and harrowing portrait of young men at war." Vince Flynn, author of Pursuit of Honor

Matterhorn is one of the most powerful and moving novels about combat, the Vietnam War, and war in general that I have ever read." Dan Rather

As warfare shapeshifts its way into a new century, the publication of Matterhorn is perfectly timed. Karl Marlantes tells a riveting, richly detailed personal tale of soldiers in Vietnam, and in doing so, he brilliantly illuminates the defining war of the last half of the twentieth century. Matterhorn reminds us, profoundly, of our flawed humanity, capable of individual grace and collective horror." Robert Olen Butler, author of A Good Scent from a Strange Mountain

Never have we seen the particular horrors and challenges of Vietnam so richly explored, and never have we felt the tactile experience of the war depicted with such mesmerizing force. We see the big picture, but as with all great novels, it's the tiny detailsthe mud, the leeches, the adrenaline-drenched dread of combat, and the tender joy of comradeshipthat linger with the reader long after the story is over." Hampton Sides, author of Ghost Soldiers and Hellhound on His Trail

These are the words I wrote down while reading Matterhorn: authentic, funny, heartbreaking, infuriating, devastating. This great book crawled under my skin on the first page, and I suspect it will remain there for a very long time." David Finkel, author of The Good Soldiers

Matterhorn is a masterful and thrilling drama about an event of national importance that we have barely understood. Marlantes conjures grace out of suffering, honor from despair, sense out of nonsense. The men and women of this story have long deserved a homecoming, and we needed to hear their true story. Marlantes has delivered a heartbreaking achievement. He has written a timeless work of literary fiction." Doug Stanton, author of Horse Soldiers