A Hill of Beans (A Chuckwagon Trail Western #3) (Mass Market)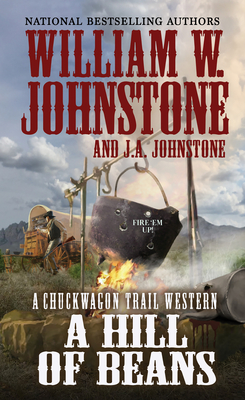 $7.99
Not in stock at store. Will, in most instances, ship from our warehouse in 7-10 days
Other Books in Series
This is book number 3 in the A Chuckwagon Trail Western series.
Description
---
Johnstone Country. Come and Get It.

Mac is back.

Framed for a murder he didn't commit, Dewey "Mac" Mckenzie is a wanted man who ends up on a cattle drive heading west—as a chuckwagon cook. Though he's never even boiled an egg, Mckenzie has a natural gift for cobbling together good trail drive grub.

Now, with two trail drives under his belt, Mckenzie has proven to be more than a good chuckwagon cook. He's good at serving up justice, too—with a side of hot lead . . .

A HILL OF BEANS

Mac Mckenzie has enough problems on his plate. He's got bounty hunters on his tail, no one on his side, and no place to hide. Just when he thinks it can't get any worse, he hears the rumbling of a cattle stampede—heading straight for his camp.  Mac's got two choices: Get trampled like a weed or saddle up and help get the herd under control. At first, the traildrivers ain't too pleased to have a stranger help them out. But once they realize Mac's not a rustler, they ask him to join the team. Mac takes them up on the offer—especially after he meets the cowgirl Colleen—and quickly impresses everyone with his cooking skills. There's just a few more problems:

Mac's new employers might be the real rustlers. And Mac's stepped out of the frying pan into the fire . . .
About the Author
---
William W. Johnstone has written nearly three hundred novels of western adventure, military action, chilling suspense, and survival. His bestselling books include The Family Jensen; The Mountain Man; Flintlock; MacCallister; Savage Texas; Luke Jensen, Bounty Hunter; and the thrillers Black Friday, The Doomsday Bunker, and Trigger Warning.

J.A. Johnstone learned to write from the master himself, Uncle William W. Johnstone, with whom J.A. has co-written numerous bestselling series, including The Loner; The First Mountain Man; Those Jensen Boys; and Preacher, The First Mountain Man.
 
Live Free. Read Hard.
Praise For…
---
Raves for Butch Cassidy The Lost Years
"Johnstone is a masterful storyteller, creating a tale that is fanciful and funny, exciting and surprisingly convincing. This is great fun."
—Publishers Weekly
"An entertaining story with lots of plot twists."
—Booklist
"Bestselling authors William W. Johnstone and J.A. Johnstone present readers with a quick‑moving, entertaining novel."
—Historical Book Society