Torture Town (Mass Market Paperbound)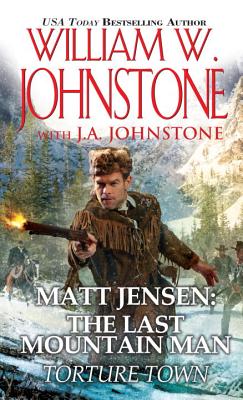 $7.50
Email or call for price.
Description
---
Reared by adventurer Smoke Jensen in the pristine Western wilderness, he has no home, no destination. Matt Jensen is William W. Johnstone's legendary creation--a man with survival and justice in his blood. More Vicious Than The Hatfields And The Mccoys. . . In the town of Thirty-Four Corners, Colorado, Matt Jensen rides into a savage blood feud. Thirty years ago two friends came West and built a thriving cattle business. Now, their families have become kill-crazy enemies and the town is awash in a frenzy of killing. Add in hired gunmen on both sides of the fight, and two lovers crossing the dividing line, and the terror will never end. Eager to put as many miles between himself and Thirty Four Corners, Matt Jensen just can't bring himself to leave without trying to stop the bloodshed. But it's going to take a lot more bullets, just as many bodies, and the steely courage of an intrepid frontiersman to let this ravaged town live again. . .
About the Author
---
William W. Johnstone is the USA Today and New York Times bestselling author of over 300 books, including Preacher, The Last Mountain Man, Luke Jensen Bounty Hunter, Flintlock, Savage Texas, Matt Jensen, The Last Mountain Man; The Family Jensen, Sidewinders, and Shawn O'Brien Town Tamer . His thrillers include Phoenix Rising, Home Invasion, The Blood of Patriots, The Bleeding Edge, and Suicide Mission. Visit his website at www.williamjohnstone.net or by email at dogcia2006@aol.com. Being the all-around assistant, typist, researcher, and fact checker to one of the most popular western authors of all time, J.A. Johnstone learned from the master, Uncle William W. Johnstone. He began tutoring J.A. at an early age. After-school hours were often spent retyping manuscripts or researching his massive American Western history library as well as the more modern wars and conflicts. J.A. worked hard--and learned. "Every day with Bill was an adventure story in itself. Bill taught me all he could about the art of storytelling. 'Keep the historical facts accurate, ' he would say. 'Remember the readers, and as your grandfather once told me, I am telling you now: be the best J.A. Johnstone you can be.'"