Snake River Slaughter (Matt Jensen/Last Mountain Man #5) (Paperback)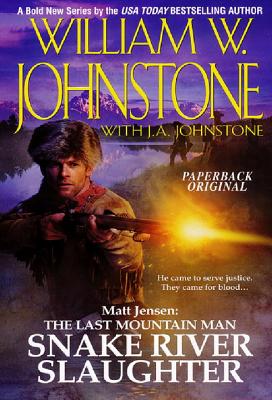 $6.99
Email or call for price.
Other Books in Series
This is book number 5 in the Matt Jensen/Last Mountain Man series.
Description
---
Matt Jensen is the adopted son of mountain man Smoke Jensen: his soul was forged by violence and hardship, his calling the sound of a gun. . .


Snake River Massacre

Matt Jensen didn't want to kill two murderers in Wyoming but he had no choice. Now, his fame has reached into Idaho Territory where a woman Matt knew as a child in an orphanage is being hunted by predators. . . Kitty Wellington inherited her uncle's 20,000-acre ranch--and a mortgage--on the Snake River. She plans to pay her debt by selling thoroughbreds to the U.S. Army. But a relative is trying to steal it all. . .until Matt enters a fight whose most dangerous combatants have yet to show their hand.


Behind one man's evil plot is a small army of vicious killers masquerading as peace officers in Boise. For men who are used to getting their way, the odds in this fight look pretty good. . .until they meet Matt Jensen.

The real battle is about to begin.
About the Author
---
William W. Johnstone is the USA Today and New York Times bestselling author of over 300 books, including Preacher, The Last Mountain Man, Luke Jensen Bounty Hunter, Flintlock, Savage Texas, Matt Jensen, The Last Mountain Man; The Family Jensen, Sidewinders, and Shawn O'Brien Town Tamer . His thrillers include Phoenix Rising, Home Invasion, The Blood of Patriots, The Bleeding Edge, and Suicide Mission. Visit his website at www.williamjohnstone.net or by email at dogcia2006@aol.com.

Being the all-around assistant, typist, researcher, and fact checker to one of the most popular western authors of all time, J.A. Johnstone learned from the master, Uncle William W. Johnstone.  

He began tutoring J.A. at an early age. After-school hours were often spent retyping manuscripts or researching his massive American Western history library as well as the more modern wars and conflicts. J.A. worked hard—and learned.

"Every day with Bill was an adventure story in itself. Bill taught me all he could about the art of storytelling. 'Keep the historical facts accurate,' he would say. 'Remember the readers, and as your grandfather once told me, I am telling you now: be the best J.A. Johnstone you can be.'"