Ball Lightning (Paperback)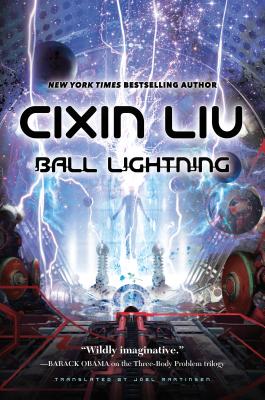 Description
---
One of the foundational novels by beloved science fiction author Cixin Liu, Ball Lightning is a stunning tale of physics, ethics, and one man's journey for answers that may come at too high a cost.
When Chen's parents are incinerated before his eyes by a blast of ball lightning, he devotes his life to cracking the secret of this mysterious natural phenomenon. His search takes him to stormy mountaintops, an experimental military weapons lab, and an old Soviet science station.
The more he learns, the more he comes to realize that ball lightning is just the tip of an entirely new frontier. While Chen's quest for answers gives purpose to his lonely life, it also pits him against soldiers and scientists with motives of their own: a beautiful army major with an obsession with dangerous weaponry, and a physicist who has no place for ethical considerations in his single-minded pursuit of knowledge.
About the Author
---
CIXIN LIU is the most prolific and popular science fiction writer in the People's Republic of China. Liu is an eight-time winner of the Galaxy Award (the Chinese Hugo) and a winner of the Chinese Nebula Award. Prior to becoming a writer, he worked as an engineer in a power plant. His novels include The Three-Body Problem, The Dark Forest, and Death's End.

Joel Martinsen is research director for a media intelligence company. His translations have appeared in Words Without Borders, Chutzpah!, and Pathlight. He lives in Beijing.
Praise For…
---
"Wildly imaginative, really interesting." -President Barack Obama on the Three-Body Problem trilogy
"A breakthrough book . . . a unique blend of scientific and philosophical speculation, politics and history, conspiracy theory and cosmology." —George R. R. Martin, on The Three Body Problem
"Extraordinary." —The New Yorker, on The Three Body Problem
"Remarkable, revelatory and not to be missed." —Kirkus Reviews, starred review, on The Three Body Problem
"A must-read in any language." —Booklist, on The Three Body Problem
"A meditation on technology, progress, morality, extinction, and knowledge that doubles as a cosmos-in-the-balance thriller.... a testament to just how far [Liu's] own towering imagination has taken him: Far beyond the borders of his country, and forever into the canon of science fiction. - NPR, on Death's End
"The best kind of science fiction, familiar but strange all at the same time." -- Kim Stanley Robinson, on The Three Body Problem