What Can You See? Animals in the Night: Use the Star Light to Find Hidden Animals! (Hardcover)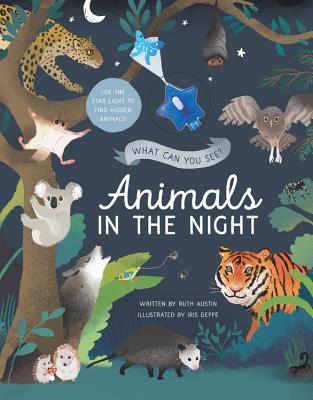 Hard to Find and probably Out of Print
Description
---
A lot happens in the natural world while you sleep! What Can You See? Animals in the Night is your guide to discovering what you miss in nature nightly. The included UV light reveals the nighttime creatures.

Moonlight reflecting off the surface of a pond. Fireflies twinkling in the bushes. Owls gliding through the air. Welcome to the world of What Can You See? Animals in the Night. In this exciting new animal book for kids, you will explore the lives of these nocturnal creatures in stunning, fully illustrated detail.

Journey to distant lands in search of amazing animals like the Samoan fruit bat and the cuddly koala. On the way, you will learn about the African leopard, the rare luna moth, and many other creatures. This innovative 32-page book includes specialty printing that makes it come to life under the included UV light! Just shine the light to reveal the nocturnal animals hidden in the spreads.
About the Author
---
Ruth Austin got her start in the UK before deciding to exchange rainy London skies for, erm, rainy Seattle skies. Her debut picture book, So Many Cuddles, won a Moonbeam gold medal and was selected as a 2017 Foreword Indies finalist. She writes gift books for grown-ups, too, and the odd stationery product, but children's books remain her true love. Ruth spends her days having fun with words (hers, yours, anyone's) and loves nothing more than other people's crazy new ideas.
Iris Deppe was born and raised in the Caribbean and lived in the Netherlands for several years while she studied Illustration at HKU University of the Arts. Currently, she resides in Copenhagen, Denmark. Iris enjoys working on many different projects, from drawings, collages, and album covers to children's book illustrations and films. She finds inspiration in absurd situations, nature, and '60s & '70s music, and she has a big love for primary colours and the sea.