Our Endangered Values: America's Moral Crisis (Paperback)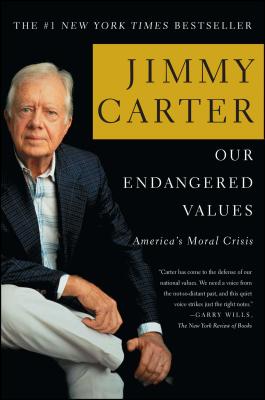 $16.00

Not in stock at store. Will, in most instances, ship from our warehouse in 7-10 days
Description
---
President Jimmy Carter offers a passionate defense of separation of church and state. He warns that fundamentalists are deliberately blurring the lines between politics and religion.

As a believing Christian, Carter takes on issues that are under fierce debate -- women's rights, terrorism, homosexuality, civil liberties, abortion, the death penalty, science and religion, environmental degradation, nuclear arsenals, preemptive war, and America's global image.
About the Author
---
Jimmy Carter was the thirty-ninth President of the United States, serving from 1977 to 1981. In 1982, he and his wife founded The Carter Center, a nonprofit organization dedicated to improving the lives of people around the world. Carter was awarded the Nobel Peace Prize in 2002. He is the author of thirty books, including A Full Life: Reflections at Ninety; A Call to Action: Women, Religion, Violence, and Power; An Hour Before Daylight: Memoirs of a Rural Boyhood; and Our Endangered Values: America's Moral Crisis.
Praise For…
---
"Our Endangered Values cannot be safely ignored."

-- The Wall Street Journal

"Carter offers an unusual combination: a man of faith and a man of power....By adding his own voice to the discussion, Carter reminds us of a time when religion was tied to such virtues as humility and such practices as soul-searching...he is undoubtedly one of our finest human beings."

-- Alan Wolfe, The Washington Post Book World

"The prolific former president writes eloquently about how his faith has shaped his moral vision."

-- The Atlanta Journal-Constitution

"Carter has come to the defense of our national values. We need a voice from the not-so-distant past, and this quiet voice strikes just the right notes."

-- Garry Wills, The New York Review of Books