Ralph Compton Death Valley Drifter (The Gunfighter Series) (Mass Market)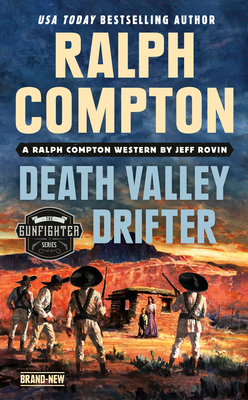 $7.99
Not in stock at store. Will, in most instances, ship from our warehouse in 7-10 days
Description
---
In this thrilling new installment in bestseller Ralph Compton's The Gunfighter series, a man wakes with no memory of who he is—or why someone wants him dead.

A gunman without a gun wakes up in Death Valley. He has no recollection of how he got there, or even his own name. He's a dead man walking until his luck turns. He stumbles upon the homestead of a widow and her young son who nurse him back to health. 
 
But in the desert good deeds come at a cost. The amnesiac is being trailed by hard men who want answers he doesn't have. First a group of gunslingers, then a troop of soldiers threaten the innocent family. Their only hope of rescue is the very man who got them in this predicament. 
 
But how can he help them when he doesn't even know who he is? At least the men who want to kill him seem to know his name. Maybe they'll put it on his gravestone.
About the Author
---
Ralph Compton stood six foot eight without his boots. He worked as a musician, a radio announcer, a songwriter, and a newspaper columnist. His first novel, The Goodnight Trail, was a finalist for the Western Writers of America Medicine Pipe Bearer Award for best debut novel. He was the USA Today bestselling author of the Trail of the Gunfighter series, the Border Empire series, the Sundown Rider series, and the Trail Drive series, among others.

Jeff Rovin is the author of more than 150 books, fiction and nonfiction, under his own name, under various pseudonyms, or as a ghostwriter, including numerous New York Times bestsellers and over a dozen of the original Tom Clancy's Op-Center novels.