Topics of Conversation: A novel (Hardcover)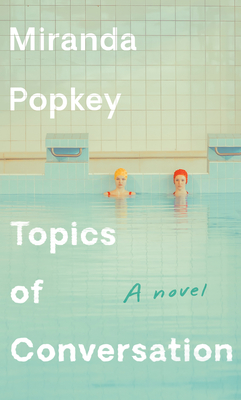 $24.00
Not in stock at store. Will, in most instances, ship from our warehouse in 7-10 days
Description
---
For readers of Sally Rooney, Rachel Cusk, Lydia Davis, and Jenny Offill--a compact tour de force about sex, violence, and self-loathing from a ferociously talented new voice in fiction

Miranda Popkey's first novel is about desire, disgust, motherhood, loneliness, art, pain, feminism, anger, envy, guilt--written in language that sizzles with intelligence and eroticism. The novel is composed almost exclusively of conversations between women--the stories they tell each other, and the stories they tell themselves, about shame and love, infidelity and self-sabotage--and careens through twenty years in the life of an unnamed narrator hungry for experience and bent on upending her life. Edgy, wry, shot through with rage and despair, Topics of Conversation introduces an audacious and immensely gifted new novelist.
About the Author
---
MIRANDA POPKEY was born in Santa Cruz, California in 1987. She graduated with a BA in Humanities from Yale in 2009 and with an MFA in Creative Writing from Washington University in St. Louis in 2018. She has written for, among other outlets, The New Republic, The New Yorker's Page-Turner blog, the Paris Review Daily, The Hairpin, The Awl, GQ, and New York magazine's The Cut.
Praise For…
---
One of Time, The Washington Post, Hello Giggles, Apartment Therapy, Real Simple, and Entertainment Weekly's Most Anticipated books of 2020

"Sally Rooney-esque... Popkey's sentences careen breathlessly as her halting, staccato prose mirrors the "churning" within the narrator's mind... Her manner of parceling out information evoke at times the fragmentary and diaristic sensibilities of Jenny Offill's "Dept. of Speculation"... a shrewd record of the act of unflinchingly circling these amorphous notions of pain, desire and control."
--The New York Times Book Review

"Slim but potent... has the flavor of Rachel Cusk... provocative... sure to spark conversation."
--NPR

"Masterly"
--The New Yorker

"As she explores her own history through a shifting lens of female rivalries and friendships, the book's surface coolness begins to peel away, revealing the raw, uncommon nerve of a radically honest storyteller."
--Entertainment Weekly

"Electrifying... Shrewd and sensual, Popkey's debut carries the scintillating charge of a long-overdue girls' night."
--O, The Oprah Magazine

"Popkey's lyrical debut novel reads like a series of short stories: Over the span of 20 years, an unnamed narrator has conversations with an eclectic set of women — conversations about shame and love, sexuality and power. Envy and guilt. Motherhood. Loneliness. The slim book is smart and raw, and Popkey dives head-on into difficult, well — how else to say it? — topics of conversation."
--The Washington Post

"Masterfully controlled, delightfully chilly"
--The Boston Globe

"Each of the chapters in this exacting, exhilarating debut novel records a deeply intimate discussion the capricious, now-38-year-old narrator has had over nearly two decades with friends, maternal figures, and later, fellow single mothers. Our guess is that this book will be the topic of many conversations in 2020."
--O The Oprah Magazine

"Formally adventurous and blisteringly current, this debut novel spanning almost two decades of conversations between women wrestles with the stories women tell about desire, friendship, and violence, among other subjects. In glittering prose, Popkey illuminates the performative nature of storytelling, assessing the degree to which the stories we tell about our lives are fictions."
-–Esquire

"Icily intelligent... A novel full of astute descriptions of wanting and being wanted, of desire that contradicts, demands, eats itself, turns inside out, subsides into a kind of aching tenderness... The questions it asks are about how women make sense — or don't, or can't — of the ways they've been limited, controlled and intoxicated by male standards of desire, make reading "Topics of Conversation" as thrilling as being told a secret."
--The San Francisco Chronicle

"In this perceptive, biting debut novel that's perfect for Sally Rooney fans, readers follow an unnamed narrator over two decades of her life via conversations she has with other women about desire, relationships, sex, and motherhood. There's much to relate to and dogear in this slim book."
--Real Simple

"An intimate evisceration of our narrow imaginings of female sexuality, a brilliantly structured character study, and a book that repeatedly asks how women can fully trust their own desires when they've grown up steeped in the wrong stories. Its narrator is as skeptical of her own self-delusive fictions as she is of the stifling cliches and shallow fantasies about women's interior lives perpetuated by the wider culture."
-–Karen Russell, author of Orange World

"A pleasingly unsentimental novel about attraction and repulsion and the fluid line between the two.  Popkey writes about these emotional eddies with such thrilling detachment you'll wonder why you ever worried about love at all."
--Jenny Offill, author of Dept. of Speculation
 
"Penetrating, brutal, a brilliant new voice in contemporary fiction."
--Ben Marcus, author of Notes from the Fog

"In luminous prose, Popkey explores the intricacies of love and desire and female  friendship.  The voices in this novel are as insistent as the longing voice that comes from within, and every page sparks with intelligence."
 --Kirstin Valdez Quade, author of Night at the Fiestas

"Bedazzling…a slender volume with the power of lightning."
--BookPage

"A book of ideas—about power and gender, about desire, about loneliness and rage—but it is also, at its core, a novel about storytelling, about the quest for a stable narrative that can explain us to others and to ourselves...A rich and rigorous dissection of how we construct who we are."
--Kirkus Reviews

"Nonetheless a searing and cleverly constructed novel and a fine indication of what's to come from this promising author."
--Publishers Weekly