Welcome to Subterranean Books.
Thanks for checking in.
______________________________________________________________
How to Bake Pi: An Edible Exploration of the Mathematics of Mathematics (Paperback)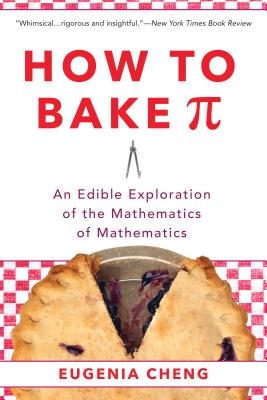 $16.99
Usually Ships from Warehouse in 1-5 Days
Description
---
"Whimsical...rigorous and insightful." -- New York Times Book Review
What is math? How exactly does it work? And what do three siblings trying to share a cake have to do with it? In How to Bake Pi, math professor Eugenia Cheng provides an accessible introduction to the logic and beauty of mathematics, powered, unexpectedly, by insights from the kitchen. We learn how the b chamel in a lasagna can be a lot like the number five, and why making a good custard proves that math is easy but life is hard. At the heart of it all is Cheng's work on category theory, a cutting-edge "mathematics of mathematics," that is about figuring out how math works. Combined with her infectious enthusiasm for cooking and true zest for life, Cheng's perspective on math is a funny journey through a vast territory no popular book on math has explored before. So, what is math? Let's look for the answer in the kitchen.

About the Author
---
Eugenia Cheng is tenured in the School of Mathematics and Statistics at the University of Sheffield. She is the Scientist in Residence at the School of the Art Institute of Chicago, where she currently lives.