Creatures of a Day: And Other Tales of Psychotherapy (Paperback)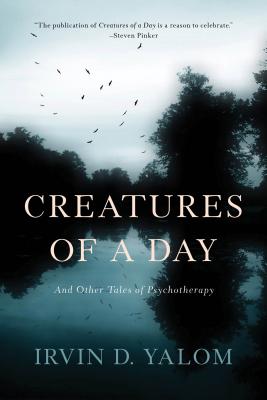 $16.99
Backordered. Not in stock at store and may take a number of weeks to arrive.
Description
---
"The publication of Creatures of a Day is reason to celebrate." -- Steven Pinker

In this stunning collection of stories, renowned psychiatrist Irvin D. Yalom describes his patients' struggles -- as well as his own -- to come to terms with the two great challenges of existence: how to have a meaningful life yet reckon with its inevitable end. We meet a nurse who must stifle the pain of losing her son in order to comfort her patients' pains, a newly minted psychologist whose studies damage her treasured memories of a lost friend, and a man whose rejection of psychological inquiry forces even Yalom himself into a crisis of confidence.

Creatures of a Day is a radically honest statement about the difficulties of human life, but also a celebration of some of the finest fruits -- love, family, friendship -- it can offer. Marcus Aurelius has written that "we are all creatures of a day." With Yalom as our guide, we will find the means to make our own day not only bearable, but also meaningful and joyful.
About the Author
---
Irvin D. Yalom, MD, is professor emeritus of psychiatry at the Stanford University School of Medicine. He was the recipient of the 1974 Edward Strecker Award and the 1979 Foundations' Fund Prize in Psychiatry. He is the author of When Nietzsche Wept (winner of the 1993 Commonwealth Club gold medal for fiction); Love's Executioner, a memoir; Becoming Myself, a group therapy novel; The Schopenhauer Cure; and the classic textbooks Inpatient Group Psychotherapy and Existential Psychotherapy, among many other books. He lives in Palo Alto, California.
Praise For…
---
"Stunning."
—
Salon
"
Creatures of a Day
is just what the doctor ordered!"—
Abraham Verghese, author of Cutting for Stone
A remedy more powerful than any fad or pill could promise."
—
Washington Post
"Poignant and bracing."
—
Los Angeles Review of Books
"Stunning."
—
-
"These individual accounts of emotional challenges and resolutions--from a man ashamed of his hoarding to a woman with a terminal cancer diagnosis--shine a brilliant light on what it means to be human and to need help."
—
Daniel Menaker, author of The Treatment and My Mistake: A Memoir
"Irvin Yalom has produced a book of such piercing depth that to enter into it is transformative. You feel less like you are reading
Creatures of a Day
than that it is reading you."—
Rebecca Newberger Goldstein, McArthur Fellow and author of Plato at the Googleplex and Betraying Spinoza
"Dr. Yalom has written a magical book. Anyone who has ever thought about his or her own aging or mortality will love this book."
—
George Valliant, professor of psychiatry, Harvard University, and author of Triumphs of Experience and Aging Well
"Yalom sees the therapist as a poet. He sees therapy as an art. And he sees his clients as fellow poets, working the high wire, along and with him."
—
Patrick T. Reardon, Chicago Tribune
"This book is the best of its kind I've read to date, offering a tender and credible look behind the curtain, through a powerful series of vignettes."
—
Miranda Palmer, PsychCentral
"[Yalom] writes amiably, certainly sympathetically, and always wisely from his point of view as an octogenarian therapist who has seen it all--well, maybe almost all--and how has some useful thoughts about the mysteries of the mind.... A humane, highly knowledgeable glimpse of the therapist's couch."
—
Kirkus Reviews
"This book will inspire therapists at any stage along with lay readers intrigued by the psyche, relationships, and the possibilities of change."
—
Library Journal, starred review
"Yalom has genuinely inspiring insights to share about the value of therapy.... The stories [he] offers of his patients' failures and triumphs are frequently moving and will invoke the reader's empathy."
—
Publishers Weekly