They Eat Puppies, Don't They?: A Novel (Hardcover)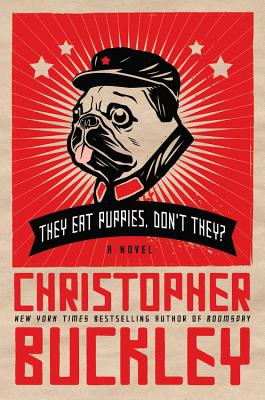 Description
---
In an attempt to gain congressional approval for a top-secret weapons system, Washington lobbyist "Bird" McIntyre teams up with sexy, outspoken neocon Angel Templeton to pit the American public against the Chinese. When Bird fails to uncover an authentic reason to slander the nation, he and Angel put the Washington media machine to work, spreading a rumor that the Chinese secret service is working to assassinate the Dalai Lama.

Meanwhile in China, mild-mannered President Fa Mengyao and his devoted aide Gang are maneuvering desperately against sinister party hard-liners Minister Lo and General Han. Now Fa and Gang must convince the world that the People's Republic is not out to kill the Dalai Lama, while maintaining Fa's small margin of power in the increasingly militaristic environment of the party.

On the home front, Bird must contend with a high-strung wife who entertains Olympic equestrian ambition, and the qualifying competition happens to be taking place in China. As things unravel abroad, Bird and Angel's lie comes dangerously close to reality. And as their relationship rises to a new level, so do mounting tensions between the United States and China.


About the Author
---
Christopher Buckley was born in New York City in 1952. He was educated at Portsmouth Abbey, worked on a Norwegian tramp freighter and graduated cum laude from Yale. At age 24 he was managing editor of Esquire magazine; at 29, chief speechwriter to the Vice President of the United States, George H.W. Bush. He was the founding editor of Forbes FYI magazine (now ForbesLife), where he is now editor-at-large.

He is the author of fifteen books, which have translated into sixteen languages. They include: Steaming To Bamboola, The White House Mess, Wet Work, God Is My Broker, Little Green Men, No Way To Treat a First Lady, Florence of Arabia, Boomsday, Supreme Courtship, Losing Mum And Pup: A Memoir and Thank You For Smoking, which was made into a movie in 2005. Most have been named New York Times Notable Books of the Year.

He has written for the New York Times, Washington Post, Wall Street Journal, the New Yorker, Atlantic Monthly, Time, Newsweek, Vanity Fair, National Geographic, New York Magazine, the Washington Monthly, Forbes, Esquire, Vogue, Daily Beast, and other publications.

He received the Washington Irving Prize for Literary Excellence and the Thurber Prize for American Humor. He lives in Connecticut.
Praise For…
---
PRAISE FOR THEY EAT PUPPIES, DON'T THEY?
"Writing comic fiction about world events demands wit and inside knowledge about Washington. It also requires an ability to see the light side of serious issues like China's treatment of Tibet, the death of beloved spiritual leaders and America's financial dependency on China. These are not funny topics, but Christopher Buckley's new novel about them, They Eat Puppies, Don't They?, is hilarious."—
USA Today
"With rising concern about China's military buildup and its economic rivalry with the U.S., perhaps the best course of action is to milk the situation for some laughs. And there are laughs aplenty in Christopher Buckley's sendup.... Creators of great works of satire, such as Jonathan Swift and Mark Twain, don't appear often, but Buckley follows in the footsteps of fellow satirist Tom Wolfe in giving readers a delightful perspective on some of the leading issues and social mores of our times."—
Associated Press
"Sun Tzu's Chinese classic, 'The Art of War,' gets quite a workout in Christopher Buckley's latest uproarious political farce, fervently quoted by strivers and schemers in both Beijing and Washington."—
The New York Times Book Review
"Buckley is at his searing best.... Buckley knows Washington. He knows satire. He knows Dr. Strangelove and how to ratchet up absurdities. As our antiheroes get closer and the stakes climb, the book mixes outrageousness and plausibility like a dirty martini..... this is a funny book, and there's nothing here to displease the devoted Buckley fan. And perhaps it speaks to his skill with satire that as the world teeters toward war, we find ourselves missing his lobbyist."—
The Washington Post
"They Eat Puppies, Don't They? cuts deftly between politburo meetings in China and backroom deals in Washington while skewering D.C. pretensions.... Unlike so many other satirists of Beltway culture, Buckley is both deeply informed and deeply funny."—
The Wall Street Journal
"Waggishly amusing... It requires a certain measure of audacity to reward that most whacked of political piñatas, the Washington lobbyist, with his day in the sun. But lobbyists and spin doctors have been good to Buckley (see Thank You for Smoking and Boomsday), who reciprocally accords them a mordant admiration akin to that which David Mamet has lavished upon real estate sharks and card sharps."—
San Francisco Chronicle
"A hilarious and page-turning story of political absurdity worthy of Dr. Strangelove himself."—
The Daily Beast
"A funny, funny book.... Buckley is that rare combination-a brilliant satirist of the first-order and a laugh-out-loud funny writer. They Eat Puppies, Don't They? is one of his best."—
Houston Chronicle
"Sharply hilarious, outrageously fun....Outrageous does not mean implausible, however, and Buckley commands the material so convincingly that the reader stops to ponder if some comic invention wasn't something read in the newspaper last week...They Eat Puppies is smart entertainment, too. And seriously funny."—
Cleveland Plain Dealer
"World powers get little respect from Christopher Buckley in his latest novel.... And as the title might suggest, there is a lot of humor to be digested...hilarious....The usual disclaimer describes the book as a 'work of fiction,' and one can only hope there are no exceptions to that."—
The Oklahoman
"Bulls-eye political satire"


—
Booklist
"The title refers to the supposed culinary propensities of the Chinese, but as this novel makes clear, it's said with more than a twist of irony....A lively and politically spirited read."—
Kirkus Reviews
"You won't really be fond of any of the characters in Christopher Buckley's satire 'They Eat Puppies, Don't They?' But you will have a ball reading about their shenanigans.—
Fredericksburg Free Lance-Star
"Christopher Buckley, amuser-in-chief...Buckley's latest foray into international affairs is entertaining and topical. It cuts close to the bone, funny and otherwise."—
Pittsburgh Post-Gazette
"A well-built addition to Buckley's oeuvre"—
Publishers Weekly
PRAISE FOR CHRISTOPHER BUCKLEY
"One of the funniest writers in the English language."—
Tom Wolfe
"A Benchley with WordPerfect."—
John Updike
"An effervescent joy."—
Joseph Heller
"Christopher Buckley is the nation's best humor novelist."—
Christian Science Monitor
"Christopher Buckley doesn't merely observe the zeitgeist better than anyone else on the planet. He anticipates it-and routinely has a new novel finished at the precise moment when everyone else is about to notice that something is afoot."—
National Review
"Each of his novels may be light as air, but bit by bit they're building up into a significant social portrait, the beginnings of a vast Comédie-Washingtonienne . . . At a time of high political absurdity, Buckley remains our sharpest guide to the capital, and amore serious one than we may suppose."—
Blake Wilson
,
New York Times Book Review
"As Jon Stewart proves, Washington is an easy target to satirize with its hypocrisy, ego-powered politicians and endless hot-air emissions. What sets Buckley apart is his ability to mock Washington yet convey a genuine admiration for many of its residents . . . Buckley remains hilarious."—
USA Today
"Hilarious . . . full of wry observations on the follies of Washington high life. What makes it laugh-out-loud funny is Buckley's sense of how little you have to exaggerate to make Washington seem absurd."—
New York Daily News
"You can't make this stuff up . . . Unless of course you are Christopher Buckley, son of the late William, whose fictional satires are must-reads for those looking to understand our cultural moment, or at least have a few laughs at it. Buckley is a master at cooking up scenarios that are wild without being entirely absurd and populating them with attractive characters."—
Chicago Sun Times
"The quintessential political novelist of our time."—
Fortune
Coverage from NPR