Caravaggio: A Life Sacred and Profane (Hardcover)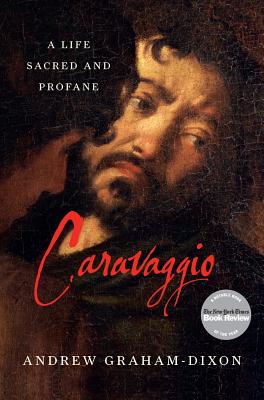 Description
---
In the tradition of John Richardson's Picasso, a commanding new biography of the Italian master's tumultuous life and mysterious death.
For four hundred years Caravaggio's (1571-1610) staggering artistic achievements have thrilled viewers, yet his volatile personal trajectory-the murder of Ranuccio Tomasini, the doubt surrounding Caravaggio's sexuality, the chain of events that began with his imprisonment on Malta and ended with his premature death-has long confounded historians. In a bravura performance, Andrew Graham-Dixon delves into the original Italian sources, presenting fresh details about Caravaggio's sex life, his many crimes and public brawls, and the most convincing account yet published of the painter's tragic death at the age of thirty-eight. With illuminating readings of Caravaggio's infamous religious paintings, which often depict prostitutes and poor people, Graham-Dixon immerses readers in the world of Italy at the height of the Counter-Reformation and creates a masterful profile of the mercurial painter's life and work.
About the Author
---
Andrew Graham-Dixon is a prominent writer, television host, and historian. He has written a number of acclaimed books and has won the Hawthornden Prize, Britain's top prize for writing about art. Considered "the most gifted art critic of his generation" (Robert Hughes), Graham-Dixon researched Caravaggio's life for more than ten years.
Praise For…
---
Caravaggio: A Life Sacred and Profane reads like a historical-swashbuckler-cum-detective-story while also providing an up-to-date introduction to some of the most admired paintings in Western art.


— Michael Dirda

Graham-Dixon combed the criminal records of the era to glean extraordinary details about the artist's run-ins with the law. He skillfully evokes the social and religious context of turn-of-the-17th-century Italy.

— Ann Levin

An impressive web of biography, social history and art history.

This book [resees] its subject with rare clarity and power as a painter for the 21st century.
— Hilary Spurling

Graham-Dixon's biography brilliantly illuminates the life of an artist who was no less shadowy than his canvases--a man capable of both committing murder and creating ineffable beauty.
— Joseph Luzzi

[Graham-Dixon's] achieved a masterpiece of his own: an informative, fresh account of the painter's life and death. Even more impressive are the author's powerful and accessible analyses of Caravaggio's paintings, commentary that leaves readers eager to see the pieces at the heart of the story.
— Michelle Jones

Caravaggio has rarely been seen in such depth and such relief as in this marvellous biography.
— Neil MacGregor, Director of the British Museum

A thrilling lesson in the art of seeing, a sensual exploration of the shadows of Caravaggio's sometimes violent but always Christian world, a detective story with a highly satisfying ending.
— Peter Carey

Andrew Graham-Dixon brings the bad-boy genius of the 17th century to life as vividly as if he were one of today's pop stars.
— John Richardson, author of A Life of Picasso

Andrew Graham-Dixon is the most gifted art critic of his generation.
— Robert Hughes, former art critic of Time Magazine and author of The Shock of the New

I have never known an art critic in London who responds so well, year in and year out, to the challenge of subjects that cover the whole range of Western art.
— John Russell, long-time art critic of The New York Times

Criticism that manages to be skeptical and humane, dryly witty and deeply serious ...
— Anthony Quinn

[Graham-Dixon] is an entertaining art historian. He took ten years to come to terms with a very obdurate and highly original painter. Time well spent.

The most gifted art critic of his generation.
— Robert Hughes