The Mystic Masseur (Vintage International) (Paperback)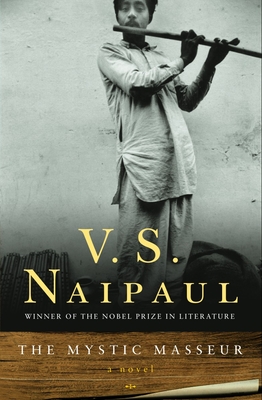 $15.95

On our shelves now (while supplies last)
Description
---
In this slyly funny and lavishly inventive novel–his first–V. S. Naipaul traces the unlikely career of Ganesh Ramsumair, a failed schoolteacher and impecunious village masseur who in time becomes a revered mystic, a thriving entrepreneur, and the most beloved politician in Trinidad. To understand a little better, one has to realize that in the 1940s masseurs were the island's medical practitioners of choice. As one character observes, "I know the sort of doctors they have in Trinidad. They think nothing of killing two, three people before breakfast."

Ganesh's ascent is variously aided and impeded by a Dickensian cast of rogues and eccentrics. There's his skeptical wife, Leela, whose schooling has made her excessively, fond. of; punctuation: marks!; and Leela's father, Ramlogan, a man of startling mood changes and an ever-ready cutlass. There's the aunt known as The Great Belcher. There are patients pursued by malign clouds or afflicted with an amorous fascination with bicycles. Witty, tender, filled with the sights, sounds, and smells of Trinidad's dusty Indian villages, The Mystic Masseur is Naipaul at his most expansive and evocative.
About the Author
---
V.S. Naipaul was born in Trinidad in 1932. He came to England on a scholarship in 1950. He spent four years at University College, Oxford, and began to write, in London, in 1954. He pursued no other profession.
 
His novels include A House for Mr Biswas, The Mimic Men, Guerrillas, A Bend in the River, and The Enigma of Arrival. In 1971 he was awarded the Booker Prize for In a Free State. His works of nonfiction, equally acclaimed, include Among the Believers, Beyond Belief, The Masque of Africa, and a trio of books about India: An Area of Darkness, India: A Wounded Civilization and India: A Million Mutinies Now.
 
In 1990, V.S. Naipaul received a knighthood for services to literature; in 1993, he was the first recipient of the David Cohen British Literature Prize. He received the Nobel Prize in Literature in 2001. He lived with his wife Nadira and cat Augustus in Wiltshire, and died in 2018.
Praise For…
---
"One of the few contemporary writers of whom we can speak in terms of greatness."–Mel Gussow, Newsday

"For sheer abundance of talent, there can hardly be a writer alive who surpasses V. S. Naipaul."–The New York Times Book Review

"Naipaul's writing is clean and beautiful, and he has a great eye for nuance."–The Atlantic Monthly

"No one else around today…seems able to employ prose fiction so deeply as the very voice of exile."–The New York Review of Books