Grace and Fury (Hardcover)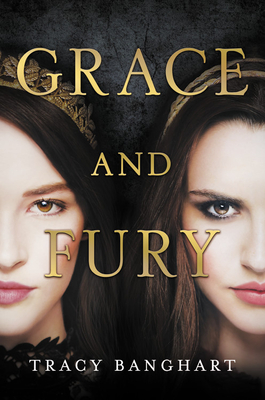 $17.99
Not in stock at store. Will, in most instances, ship from our warehouse in 7-10 days
Description
---
Bold, brutal, and beautiful -- a must-read fantasy full of fierce sisterhood, action, and political intrigue for fans of The Selection series, Caraval, and The Handmaid's Tale.

Serina Tessaro has been groomed her whole life to become a Grace -- someone to stand by the heir to the throne as a shining, subjugated example of the perfect woman. It's her chance to secure a better life for her family, and to keep her headstrong and rebellious younger sister, Nomi, out of trouble. But when Nomi catches the Heir's eye instead, Serina is the one who takes the fall for the dangerous secret her sister has been hiding.

Trapped in a life she never wanted, Nomi has only one option: surrender to her role as a Grace until she can use her position to save Serina. But this is easier said than done . . . a traitor walks the halls of the palazzo, and deception lurks in every corner.

Meanwhile Serina is running out of time. Imprisoned on an island where she must fight to the death to survive, surrounded by women stronger than she is, one wrong move could cost her everything. There is no room for weakness on Mount Ruin, especially weaknesses of the heart.

Thrilling and captivating, Grace and Fury is a story of fierce sisterhood, and of survival in a world that's determined to break you.
About the Author
---
Tracy Banghart grew up in rural Maryland and spent her summers on a remote island in northern Ontario. All that isolation and lovely scenery gave her the time to read voraciously and the inspiration to write her own stories. Always a bit of a nomad, Tracy now travels the world Army-wife style with her husband, son, and several mischievous fur babies. She wrote Grace and Fury while living in Hawaii.
Praise For…
---
Praise for Grace and Fury:
"
The Handmaid's Tale
meets
The Bachelor
,
Grace and Fury
is fast-paced, feminist, and a perfect summer read."—
Bustle
"The Handmaid's Tale gets a YA twist in this debut...The pace is quick, the ending promises a sequel, and the plot couldn't be more relevant. Buy an extra copy--this should find an audience."
—
Booklist
"Banghart...breathes new life into this feminist story of oppression and resistance. The sisters...shift and grow, adding depth to each character. Fans of Keira Cass and Marie Rutkoski will be drawn to this absorbing story and left eager for another installment."—
Publishers Weekly
"The timely YA response to
The Handmaid's Tale
."—
Hypable
"Banghart's prose is florid and engaging, and she expands the drama explosively. Fans of The Hunger Games will appreciate the similar plotting in this first installment of a planned trilogy. An easy hand-sell that will find a willing audience in those who have enjoyed Dhonielle Clayton's The Belles and Stephanie Garber's Caraval."
—
SLJ
"Grace and Fury
's blend of fantasy, feminism and political thriller will likely appeal to fans of
The Hunger Games
, Marie Rutkoski's Winner trilogy and Sabaa Tahir's
An Ember in the Ashes
. The dual narratives create plenty of suspense, and the growth and transformation of these two sisters is engrossing."—
Shelf Awareness
"...a dystopian YA delight."—
Frolic
"If you're looking for a new read to add to your ever-growing list,
Grace and Fury
is one you shouldn't miss. It's full of suspense, deception, and #girlpower."—
Her Campus
"Fiercely feminist and beautifully rebellious. A story of finding sisterhood in the face of oppression that will stay with me forever."—
Kass Morgan, New York Times bestselling author of The 100 series and Light Years
"Two sisters fight for freedom in a fantasy novel with a blisteringly fast pace and a cathartic ending."—
Kate Elliott, New York Times bestselling author of the Court of Fives series
"A cathartic, action-packed read about women taking back power."—
Elly Blake, New York Times bestselling author of the Frostblood Saga
"Fierce, fun, [and] fast-paced... empowering from start to finish and doesn't flinch in proving that sometimes the life you want isn't the one you expected -- and you won't know until you fight for it."—
Sarah Henning, author of Sea Witch
"A fierce story of sisterhood and survival. Absolutely riveting. I couldn't help but cheer for these ferocious young women."—
Kaitlyn Sage Patterson, author of The Diminished
Praise for Queen of Ruin:
"A cathartic, action-packed read about women taking back power."—
Elly Blake, New York Times bestselling author of the Frostblood Saga
"Fierce, fun, [and] fast-paced... empowering from start to finish and doesn't flinch in proving that sometimes the life you want isn't the one you expected--and you won't know until you fight for it."—
Sarah Henning, author of Sea Witch
"A fierce story of sisterhood and survival. Absolutely riveting. I couldn't help but cheer for these ferocious young women."—
Kaitlyn Sage Patterson, author of The Diminished
"Empowerment-flavored brain popcorn."—
Kirkus Reviews