Ten Arrows of Iron (The Grave of Empires #2) (Paperback)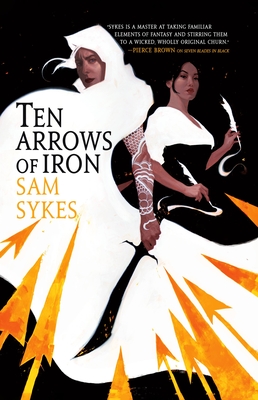 $17.99
Coming Soon - Available for Pre-Order Now
Other Books in Series
This is book number 2 in the The Grave of Empires series.
Description
---
The second novel in an epic fantasy trilogy that follows an unforgettable outcast mage caught between two warring empires.
Sal the Cacophony-outlaw, outcast, outnumbered-destroys all that she loves. Her lover lost and cities burned in her wake, all she has left is her magical gun and her all-consuming quest for revenge against those who stole her power and took the sky from her.
When the roguish agent of a mysterious patron offers her the chance to participate in a heist to steal an incredible power from the famed airship fleet, the Ten Arrows, she finds a new purpose. But a plot to save the world by bringing down empires swiftly escalates into a conspiracy of magic and vengeance that threatens to burn everything to ash, including herself.
For more from Sam Sykes, check out:
The Grave of Empires:
Seven Blades in Black
Ten Arrows of Iron
Bring Down Heaven:
The City Stained Red
The Mortal Tally
God's Last Breath
The Affinity for Steel Trilogy:
Tome of the Undergates
Black Halo
The Skybound Sea
About the Author
---
Sam Sykes - author, citizen, mammal - has written extensively over the years, penning An Affinity for Steel, the Bring Down Heaven trilogy, Brave Chef Brianna, and now The Grave of Empires trilogy. At the time of this writing, no one has been able to definitively prove or disprove that he has fought a bear.
Praise For…
---
"Sykes is a master at taking familiar elements of fantasy and stirring them to a wicked, wholly original churn. In Sal the Cacophony, Sykes has crafted a protagonist for the ages. Ludicrous, wicked, delightful."—
Pierce Brown, New York Times bestselling author on Seven Blades in Black
"
Seven Blades in Black
offers villains that are as memorable and unique as the heroes. Action, magic, romance and humor mingle well in this mammoth tale. It's an immersive read in a well realized world."—
Robin Hobb, New York Times bestselling author on Seven Blades in Black
"Exciting and inventive. I never realized how much I needed wizard-hunting gunslingers in my life."—
Peter V. Brett, New York Times bestselling author on Seven Blades in Black
"
Seven Blades in Black
is terrific. The tale of Sal the Cacophony is delightfully sarcastic and deeply sorrowful."—
Nicholas Eames, author of Kings of the Wyld on Seven Blades in Black
"Gunslingers and mad mages and monsters, oh my. Sykes' latest is a brutal and vulgar epic yet still fun enough that - and I say this as the highest of compliments - makes me wish like hell it ends up with an adaptation into a role-playing game."
—
Chuck Wendig, New York Times bestselling author on Seven Blades in Black
"Sykes' writing is full of heart, hilarity, and the frank understanding that as humans we are all disasters. Come for the adventures, stay for the weirdos."—
R. F. Kuang, author of The Poppy War on Seven Blades in Black
"By the end of the first page, you'll know Sam is in love with his characters. By the end of the second, you'll know you are too."—
Myke Cole, author of The Armored Saint on Seven Blades in Black
"A love letter to
Final Fantasy
and badass women, told with with an irresistible mix of passion and wit."—
David Dalglish, author of Soulkeeper on Seven Blades in Black
"With skillful worldbuilding, unexpected humor, and characters real enough to touch, this is easily Sykes's best book to date."—
Publishers Weekly (starred review) on Seven Blades in Black
"Compulsive from start to finish."—
Kirkus (starred review) on Seven Blades in Black