A Wicked War: Polk, Clay, Lincoln, and the 1846 U.S. Invasion of Mexico (Paperback)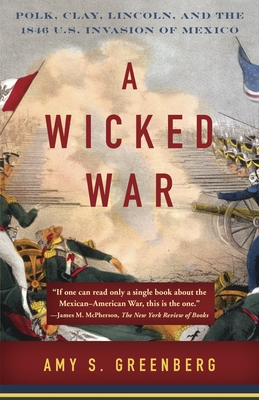 $16.95
On our shelves now (while supplies last)
Description
---
Often forgotten and overlooked, the U.S.-Mexican War featured false starts, atrocities, and daring back-channel negotiations as it divided the nation, paved the way for the Civil War a generation later, and launched the career of Abraham Lincoln. Amy S. Greenberg's skilled storytelling and rigorous scholarship bring this American war for empire to life with memorable characters, plotlines, and legacies.

This definitive history of the 1846 conflict paints an intimate portrait of the major players and their world. It is a story of Indian fights, Manifest Destiny, secret military maneuvers, gunshot wounds, and political spin. Along the way it captures a young Lincoln mismatching his clothes, the lasting influence of the Founding Fathers, the birth of the Daughters of the American Revolution, and America's first national antiwar movement. A key chapter in the creation of the United States, it is the story of a burgeoning nation and an unforgettable conflict that has shaped American history.
About the Author
---
Amy S. Greenberg is Edwin Erle Sparks Professor of History and Women's Studies at Penn State University. She is a leading scholar of Manifest Destiny and has held fellowships from the Huntington Library, the New-York Historical Society, the Guggenheim Foundation, and the American Philosophical Society. Her previous books include Manifest Manhood and the Antebellum American Empire and Cause for Alarm: The Volunteer Fire Department in the Nineteenth-Century City.
Praise For…
---
"The best account we have of the politics of Mr. Polk's War . . . If one can read only a single book about the Mexican-American War, this is the one to read."   —James M. McPherson, The New York Review of Books

"Amy Greenberg's original and moving narrative of the U.S. invasion of Mexico relates the gradual loss of enthusiasm for waging what began as a popular war of conquest.  How peace ultimately prevailed is the most surprising part of her story." —Daniel Walker Howe, Pulitzer-Prize-winning author of What Hath God Wrought
 
"No less a warrior than Ulysses S. Grant had good reason to decry the war with Mexico as 'wicked.'  In Amy S. Greenberg's dramatic and deeply engaging political narrative, the reader gets the grit of the campaign and rich insight into the fascinating historical actors who stage-managed (or resisted) this all-important, under-studied war.  In these fast-turning pages, we see clashes among political opportunists, moments of eloquence and pathos-all under the rising sun of American power." —Andrew Burstein and Nancy Isenberg, authors of Madison and Jefferson
 
"A Wicked War gives the U.S.-Mexican War a personal dimension and immediacy that has been lacking until now.  Amy Greenberg makes us live the war vicariously through the lives of the aging patriarch Henry Clay who lost a son in Mexico, the husband-and-wife presidential team of James K. and Sarah Polk, the lanky and somewhat disheveled Abraham Lincoln still learning about politics, and others.  This is a rare melding of great story-telling and analysis of an era that shaped not only the United States but the entire North American continent." —Andrés Reséndez, author of A Land So Strange
 
"A Wicked War, with its emphasis on politics rather than military history, does for the Mexican-American war what James McPherson did for the Civil War with Battle Cry of Freedom, greatly broadening our understanding of the war. Certainly Professor Greenberg's book will immediately become the standard account of the Mexican War, at last giving it an important place in the history of the United States. This book restores my faith in the merits of narrative history." —Mark E. Neely, Jr., Pulitzer Prize-winning author of The Fate of Liberty

"A well-rendered, muscular history of a war whose ramifications are still being carefully calibrated." —Kirkus Reviews

"The seldom-sung Mexican War emerges as one of America's most morally ambiguous and divisive conflicts in this illuminating history." —Publishers Weekly

"Amy S. Greenberg's new history elegantly unfolds the story of the war through the lives of five politicians . . . [Greenberg] immerse[s] her readers in the early 1840s . . . Gripping." —Maria Montoya, San Francisco Chronicle

"A provocative main idea in a freshly original narrative." —Booklist

"Greenberg writes taut political history, full of chapter-ending cliffhangers and characters who feel like real people."
—Zocalo Public Square

"In her absorbing and valuable A Wicked War: Polk, Clay, Lincoln, and the 1846 U.S. Invasion of Mexico, Penn State's Amy S. Greenberg does a splendid job of vivifying this disgraceful episode in American history." —Bill Kauffman, Reason