The Bad Lands: A Novel (Paperback)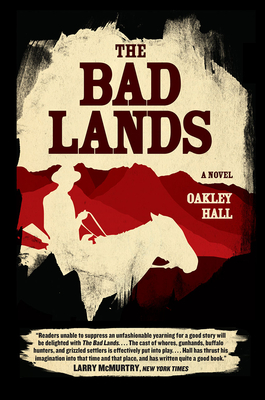 $18.00

Not in stock at store. Will, in most instances, ship from our warehouse in 7-10 days
Description
---
It's 1883 in Johnson County, in the old Dakota Territory—a rugged, wide-open landscape of rolling, red earth, prairie, and cattle as far as the eye can see. But the land is closing, the "Beef Bonanza" is ending, and the free-range cattlemen are stuck watching a way of life disappear in a blaze of drought and gunfire.

An action-packed western from one of the masters of the genre, Oakley Hall's The Bad Lands blends roundups and rustlers, whorehouses and land grabs, shoot-outs and the threat of hangings in a tale of the war between the cowboys and the cattle barons. But more than this, it is an elegy to the wild beauty of the badlands before the ranchers moved in, chased off the free-rangers, the trappers, and the tribes, and fenced it all in.
About the Author
---
Oakley Hall (1920–2008) was a great novelist of the American West and beloved writing teacher of Michael Chabon and Richard Ford, among many others. He is the author of numerous books, including Warlock, The Coming of the Kid, Apaches, and Separations.
Praise For…
---
"Readers unable to suppress an unfashionable yearning for a good story will be delighted with The Bad Lands. . . . The cast of whores, gunhands, buffalo hunters, and grizzled settlers is effectively put into play. . . . Hall has thrust his imagination into that time and that place, and has written quite a good book."
— Larry McMurtry

"The Ox-Bow Incident, Shane, The Big Sky, Hall's own Warlock. . . . The Bad Lands belongs with this select group."
— Los Angeles Times

"A suspenseful, passionate tale of men, land, love, and greed in the Old West."
— Publishers Weekly

"An elegiac, incandescent 1880s Dakota badlands Western that bears comparison to the greats (Shane, Ox-Bow Incident) that it recalls. . . . A tale of tragic justice, of nightriders, of horse thieves fighting cattle thieves—the clearest call yet from the sensitive, slicing voice that rang through the west in Warlock."
— Kirkus Reviews

"Long on plot and action, The Bad Lands is a solid, satisfying story. . . . As full of motion and as picturesque as a Remington bronze."
— Chicago Tribune

"We are a nation that can, many of us, toss with all aplomb our candy wrapper into the Grand Canyon itself, snap a color shot, and drive away; and we need voices like Hall's to remind us how far that piece of paper, still fluttering brightly behind us, has to fall."
— Thomas Pynchon

"Like Henry James and Mark Twain, Hall is a master craftsman of the story."
— Amy Tan