Welcome to Subterranean Books.
Thanks for checking in.
______________________________________________________________
The Tale of Genji: (Penguin Classics Deluxe Edition) (Paperback)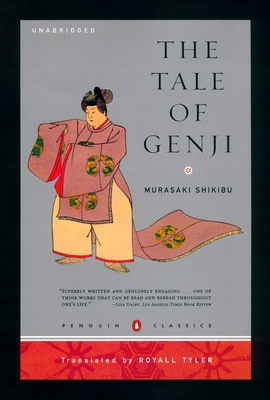 Description
---
The original novel—a classic of Japanese and world literature and a stunningly beautiful story

Written in the eleventh century, this exquisite portrait of courtly life in medieval Japan is widely celebrated as the world's first novel. Genji, the Shining Prince, is the son of an emperor. He is a passionate character whose tempestuous nature, family circumstances, love affairs, alliances, and shifting political fortunes form the core of this magnificent epic. Royall Tyler's superior translation is detailed, poetic, and superbly true to the Japanese original while allowing the modern reader to appreciate it as a contemporary treasure. Supplemented with detailed notes, glossaries, character lists, and chronologies to help the reader navigate the multigenerational narrative, this comprehensive edition presents this ancient tale in the grand style that it deserves.
 
This Penguin Classics Deluxe Edition features French flaps and deckle-edged paper.
About the Author
---
Murasaki Shikibu
, born in 978, was a member of Japan's Fujiwara clan, which ruled behind the scenes during the Heian Period by providing the brides and courtesans of all the emperors. Lady Murasaki's rare literary talent, particularly her skill as a poet, secured her a place in the court of Empress Akiko. After the death of her husband, she cloistered herself to study Buddhism, raise her daughter, and write the world's first novel
Genji Monogatari
, the tale of the shining Prince Genji.
Royall Tyler was born in London, England, and grew up in Massachusetts, England, Washington D.C., and Paris. He has a B.A. in Far Eastern Languages from Harvard, and an M.A. in Japanese History and Ph. D. in Japanese literature from Columbia University. He has taught Japanese language and culture at, among other places, Ohio State University, the University of Wisconsin, and the University of Oslo, in Norway. Beginning in 1990, he taught at the Australian National University, in Canberra, from which he retired at the end of 2000. He will spend the American academic year 2001-02 as a Visiting Professor at Harvard.
Royall Tyler and his wife Susan live in a rammed earth house on 100 acres in the bush about seventy miles from Canberra, where they breed alpacas as a hobby.
Royall Tyler's previous works include Japanese Noh Dramas, a selection and translation of Noh plays published by Penguin; Japanese Tales and French Folktales, anthologies published by Pantheon; and The Miracles of the Kasuga Deity, a study of a medieval Japanese cult published by Columbia University Press.
Praise For…
---
"[The Tale of Genji is] not only the world's first real novel,
but one of its greatest." –Donald Keene, Columbia University

"Edward Seidensticker's translation has the ring of authority." –New York Times Book Review

"A triumph of authenticity and readability." –Washington Post Book World