Ice Whale (Paperback)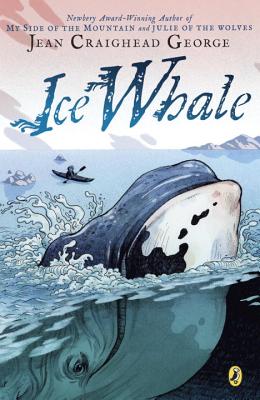 $7.99
Backordered. Not in stock at store and may take a number of weeks to arrive.
Description
---
From the most celebrated children's nature writer of our time comes a posthumous new novel in the tradition of her Newbery award-winning Julie of the Wolves

In 1848, a young boy witnesses a rare sight—the birth of a bowhead, or ice whale, he calls Siku. Years later, he unwittingly brings about the death of an entire pod of whales, and only Siku survives. For this act, the boy receives a curse of banishment. Through the generations, this curse is handed down: Siku returns year after year, in reality and dreams, to haunt the boy's descendants. Told in alternating voices, both human and whale, Jean Craighead George's last novel shows the interconnectedness of humankind and the animals they depend on.

"It's a bold, wistful, and heartfelt coda to a distinguished career."—School Library Journal
About the Author
---
Jean Craighead George (www.jeancraigheadgeorge.com) (1919–2012) was the author of more than one hundred beloved books, including the Newbery Award–winning Julie of the Wolves and the Newbery Honor–winning My Side of the Mountain. She was a lifetime naturalist.
Praise For…
---
Praise for Ice Whale:

* "Jean Craighead George's knowledge of and talent for depicting the natural world are in full evidence in this immersive epic that combines themes of conservation and native mysticism."—Publishers Weekly, starred review

"A fitting envoi for a writer whose most enduring tales of nature and survival are required childhood reading."—Kirkus Reviews

"George packs in detail about Eskimo traditions—from whale hunting to spirituality—and bowhead behaviors, including communication...this quiet story offers a compelling glimpse into the history of a way of life."—Booklist

"A bold, wistful, and heartfelt coda to a distinguished career."—School Library Journal